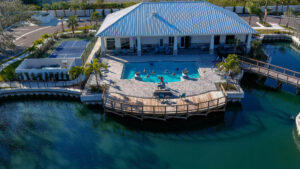 Continuing Care Retirement Communities (CCRCs) offer seniors a unique living option that provides a continuum of care as their needs change over time. While there are many advantages to CCRCs, there are also some drawbacks to consider. We'll explain the pros and cons of CCRC retirement communities to help you decide if it's the right option for you.
Pros:
Continuum of Care:

CCRCs

offer a continuum of care (all levels) including independent living, assisted living, memory care, and skilled nursing

. This means that residents can stay within the same community and receive the care they need even as their needs change.

They don't have to worry about moving to a different location

.

Peace of Mind:

Knowing that you have access to a range of care options within the same community can

provide a sense of security and peace of mind

for both residents and their families.

Residents are guaranteed they will never be asked to leave regardless of medical or financial changes.

Amenities and Services:

CCRCs often offer

a wide range of amenities and services

, such as fitness centers, swimming pools, dining options, transportation services, and more. This can make life more enjoyable and convenient for residents.

Social Opportunities:

Many CCRCs offer a variety of resident activities and social opportunities, such as clubs, classes, outings, and events. This can help seniors stay active, engaged, and connected with others in the community.
Cons:
Entrance Fees and Contracts:

CCRCs often require an entrance fee

and a long-term contract for residents.

Although these fees may seem costly and difficult to afford, many find when looking closely, the costs are less than paying monthly in high-level care rentals.

Financial Stability:

Some CCRCs may have financial stability concerns, which can impact the quality of care and services provided to residents. It's important to research a community's financial status before committing to it.

Limited Flexibility:

CCRCs may have rules and regulations that limit residents' flexibility and autonomy, such as restrictions on

travel

, visitors, and activities.
CCRCs offer a unique living option for seniors that can provide a range of benefits. However, it's important to weigh the pros and cons and consider your individual needs and preferences before making a decision. If you're interested in CCRCs, it's a good idea to tour different communities and talk to current residents to get a better sense of what life is like in each one.
If you'd like to learn more about what Buena Vida Estates has to offer, schedule a tour with us today.