Buena Vida Foundation
Buena Vida Estates is committed to providing quality services that ensure resident safety and security, as well as promote the longevity of resident health. Within our community we offer a variety of services, all focused around our residents. Our goal is to meet each individual's physical, mental, and spiritual needs, so that residents can start living worry-free immediately and begin enjoying the GoodLifesm.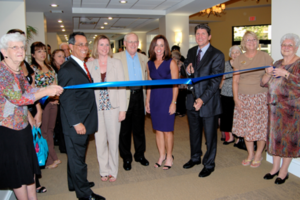 The Foundation is a not-for-profit 501(c)(3) organization, and has an independent Board of Directors comprised of community leaders and Buena Vida residents who are committed to strengthening the Foundation's resources to keep serving seniors for decades to come.
The Foundation has expanded its mission to include college scholarships and disaster relief, as well as donations for community improvement projects, including the new Sullivan Health Center, the Jay Carter Memorial Chapel, and the Buena Vida Memory Care Center – all while continuing to help seniors in need.
Charitable giving to the Buena Vida Foundation offers the satisfaction of helping our community to be stronger financially, more affordable, and responsive to residents who need assistance. All gifts to the Buena Vida Foundation are tax- deductible under the IRS regulations.
Gift Giving to the Buena Vida Foundation includes:
Bequests
Charitable gifts
Personal donations to community projects
Named projects
Endowments
Education scholarships
To learn more about estate and gift planning opportunities that meet both your charitable and personal goals, contact the Executive Director of Buena Vida Estates.