Community Involvement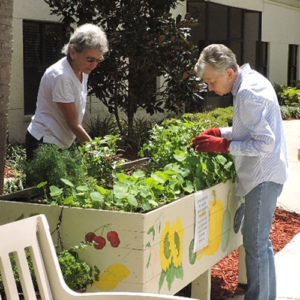 After 30 plus years of providing resort-style retirement living to the residents of Brevard County, Buena Vida is proud to be a well-known community partner. Our philosophy, to provide the GoodLifesm to Brevard's seniors, extends beyond our residents to the community in which we serve.
Within the community, we strive to be good neighbors, use responsible business practices, maintain ethical relationships and build good relations, and whenever possible, share our resources and expertise. Our staff is encouraged to share their skills and knowledge with local groups through speaking engagements, workshops, and other educational programs, in an effort to educate people about the aging process. We are committed to supporting and furthering the efforts of many of Brevard's senior services, and strive to provide safe and worry-free retirement living.
A partial list of community partners includes:
Boy & Girl Scouts of America
Brevard County's Alzheimer's Association
Brevard Association of Health Services
Brevard Leadership Network (BLN)
Buy Brevard
Caring and Sharing Support Group
Center for the Visually Impaired (CVI)
Health First and St. Francis Hospice Services
Melbourne Regional Chamber of East Central Florida
Palm Bay Chamber of Commerce
Promise of Brevard
The Sharing Center of South Brevard (on-going collection)
Veterans Transitional Housing Program (on-going collection)
West Melbourne Business Association
West Melbourne's Little League Baseball Team
Enjoy Your Personal Tour and Lunch Is On Us.