Non-Denominational Chapel
Through donations and fundraising efforts, the Buena Vida Foundation has gifted our Community with the Jay B Carter Memorial Chapel.
The Non-Denominational Chapel is open for resident use 24 hours a day, and is overseen by a Committee of Buena Vida residents.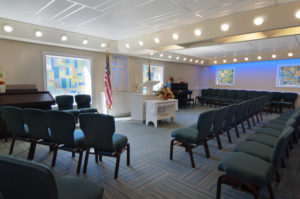 Weekly
Non-denominational Vespers Services – Sundays at 4:00pm
Catholic Communion Services – Thursdays at 10:00am
Non-Denominational Bible Study – Tuesdays at 3:45pm
Twice Monthly
Episcopal Eucharist Services: the first Monday of each month at 2:00pm, and the 3rd Sunday at 10:00am
Upon Request
Catholic Masses and Memorial Services can also be organized.