At a Glance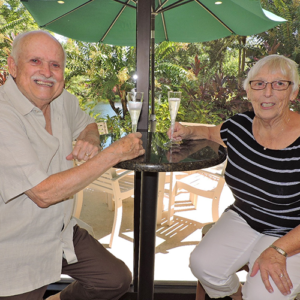 We strive to make sure our residents are living life to the fullest, and take care to provide a stress and maintenance free lifestyle. Here's what life at Buena Vida looks like, at a glance:
Current Number of Residents: 225
Age Range of Residents: 65-103
Most-Loved Meal made by Chef John:
Buena Vida Burger – 8oz burger with cherry pepper rings, sautéed mushrooms, onion, bacon, and pepper jack cheese
The Only Continuing Care Retirement Community in Brevard
Buena Vida Estates is unique to Brevard. Here, residents continue living with independence, and have secure access to a continuum of care. With three contract options available, retirees and their families can make the best decision to meet individual needs, and join the Buena Vida Community; worry-free. Learn more about CCRCs.
Resort-Style Living
Residents can enjoy an array of services, including scheduled classes, clubs, and entertainment, a well-stocked library, trip opportunities, and more. With a full calendar of activities and programs, paired with house-keeping and full dining services, residents at Buena Vida compare life to being on a cruise ship. Explore the GoodLifesm.
Consistent Quality Care
 Buena Vida has a low employee turnover rate, meaning residents can build and maintain meaningful relationships with staff. This staff includes the doctors, therapists, and health care assistants that are available to residents through our Physician Clinic and Wellness Resource Center. See our full list of Services.
Around-the-Clock Security
With updated systems and a security team patrolling campus, Buena Vida provides a safe community. Especially in the event of hurricanes or emergencies, our staff work hard to follow our Emergency Management Plan to ensure residents feel secure. Interested in seeing our campus?
Non-Profit Senior Living Community
Comprised of a Volunteer Board of Directors, the Buena Vida Foundation is run by local community leaders and Buena Vida residents. The foundation is committed to improving the Buena Vida community, creating college scholarships, providing monetary assistance and relief, and focusing on senior lifestyle betterment to enable the longevity of healthy living. Read more about the Foundation.