Healthy Eats at Buena Vida!
At Buena Vida, the good life means a healthy life, which is why we're excited to promote a healthy diet for our residents and staff. Our Anti-Inflammatory option consists of plenty of fresh vegetables, red meat, fish, and chicken to help you eat well and feel even better! It eliminates all starches, including pasta and potatoes that could weigh you down throughout your day.
Whether you choose to partake in the Anti-Inflammatory option or prefer a juicy burger n' beer in our on-site pub, we believe you'll be able to taste the good life with us at Buena Vida!
Dining Experience
Everything at Buena Vida Estates is about choice. This includes what the residents eat. With over 90 selections a month to choose from, there is something to satisfy every appetite!
The ability to choose from a 6-course meal or an item from the a la carte menu gives residents at Buena Vida Estates the opportunity to enjoy the food they want when they want it. Our flexible dining schedules and choice of three different venues throughout the community offers residents the freedom to use their dining credits as they desire. Residents have 30 meal credits a month and can use these credits on themselves or on friends and family!
Overseen by Executive Chef and Food Services Director, John Delaney, Buena Vida's culinary team is second to none. Seasonal favorites, freshly baked bread and delectable desserts are served daily. Professional wait staff provide attentive and friendly service, in the casually elegant dining room or the sporty pub.
Complimentary daily "Continental Plus" breakfast

Choice of daily chef-prepared lunch or dinner

Special holiday dinners and brunches

Themed parties and events

Private party coordination and catering

Heart healthy menu choices

Chef-prepared menu for assisted living residents

Accommodations for special diets

Special occasion outdoor barbecue and grilling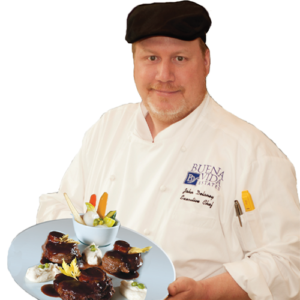 All of the meals at Buena Vida Estates have been approved by a dietician and are prepared in-house. Delicious options of beef, poultry, and fish are always on the menu and vegetarian dishes are available as well.
Buena Vida Estates encourages residents to bring tupperware to the dining room, so they can take home any food they do not finish. By bringing leftovers back to their apartments, residents save money on their groceries.
Birthdays at Buena Vida Estates are extra special. Once a month, we celebrate all of the residents who have a birthday in that month with cake for the entire community. On a resident's actual birthday, that person will have a NY Strip Steak dinner, a piece of cake, and be serenaded by the staff. We love birthdays here at Buena Vida and look forward to celebrating them!
Many residents in our community take advantage of our facility and host private parties. We can host and cater your next anniversary, birthday party, or special event. Executive Chef John Delaney will work with you on the menu and all you have to do is send out the invites!
Dining at Buena Vida Estates is truly an amazing experience. Yes, there is delicious food, but more importantly are the sounds of love and laughter you hear as soon as you walk into the dining room. One of the best aspects about this senior living option is when you dine at Buena Vida Estates, you are dining with family!