Activities & Programs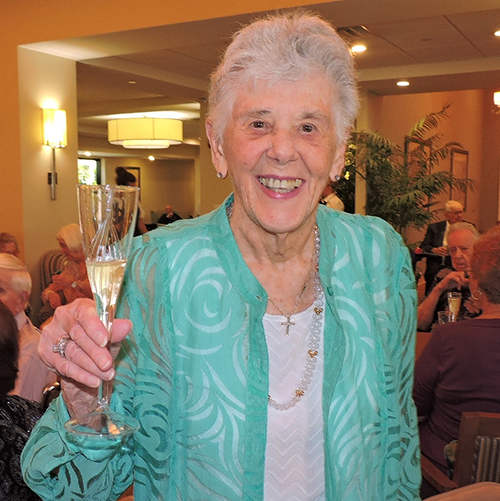 Buena Vida offers the Lifelong Wellness program. Formatted to enhance and prolong our resident's healthy and active lifestyles, this program promotes physical, mental, intellectual, and spiritual wellness throughout the aging process. Included in the program are educational classes and seminars, spiritual services, a variety of fitness opportunities, and social events like concerts, parties, and town outings.
Buena Vida is focused on maintaining our resident's well-being by facilitating and organizing events that have the GoodLifesm philosophy at their core. Every day in our community has scheduled activities and programs to participate in, although if you'd rather relax and do nothing at all, you can do that too!
A partial list of activities and programs include:
Cards & Games
Bridge
Poker
Rummikub
Canasta
Bingo
Pinochle
Game Nights/Assorted Board Games
Scrabble
Mexican Train
Hand & Foot
Education
Life-long Learning Lectures
American History Classes
Music History Classes
Tech Class
Creative Writing
Book Discussion Groups
Monthly Book Reviews with the Melbourne Public Library
Wellness Seminars
Seminars on Various Topics of Interest
AARP Safe Driving Classes
Spiritual
Bible Study
Church Vespers Services
Catholic Communion & Masses
Episcopal Eucharist Services
Memorial Services
Clubs & Organizations
Residents' Council (Buena Vida Residents' Association)
Buena Vida Residents' Association Board
Buena Vida Foundation and Foundation Board
Vespers & Chapel Committees
Thrift Shop Committee
Newsletter Committee
Library Committee
Country Store Volunteer Committee
Men's Club and Ladies Club
Gardening Club
Flag Committee
Nature Club
Needlecrafters
Just for Fun
Community Parties
In-House Entertainment
Happy Hour with entertainment
In-House Movie Channel
Matinee Movie Trips
Trips to Local Theaters and Concerts
Dinner Trips
Breakfast Gang
Hobbies & Special Interests
Painting Classes
Workshop
Jewelry and Beading
Buena Vida Chorus
Arts and Craft Shows
Volunteering Opportunities
Sports & Recreation
Pickleball
Bocce
Exercise Classes
Water Exercise
Virtual Golf, Bowling, Tennis (Wii)
Shuffleboard
Billiards
Dance Classes
Chair Yoga
Tai Chi
Line Dancing