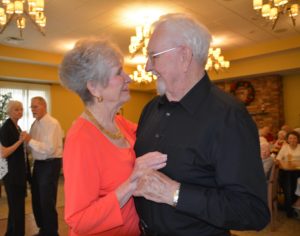 The active, independent lifestyle benefits of living in a licensed continuing care retirement community (CCRC) like Buena Vida Estates is extremely appealing. But equally important are the financial benefits. These compelling financial advantages provide the fundamental peace of mind that frees our residents to enjoy everything about their retirement lifestyle more fully.
Save on tomorrow's long-term care by prepaying for it today.
At Buena Vida Estates, your entrance fee and monthly fees prepay any long-term care you will ever need, for as long as you need it. And your fees will never increase solely based on your need for a higher level of care.
Enjoy significant tax savings every year
In addition to receiving peace of mind and financial security benefits of living in a licensed continuing care retirement community, you may take a one-time tax deduction on your entrance fee, plus your monthly fees may qualify for annual deductions.
Your nest egg is protected
When it comes to retirement financial security, the most important thing you can protect is your nest egg. Living in a Continuing Care Retirement Community, like Buena Vida Estates, protects your assets because virtually all of your future financial obligations are covered. Your long-term care is prearranged and guaranteed by your entrance fee and monthly fees. You will no longer have home maintenance bills or any unexpected expenses that can surprise you with home ownership. Your expenses are completely predictable, so your nest egg is secure. That's real peace of mind.
Your household expenses are covered and entirely predictable
Like many seniors, you've likely paid off your mortgage. But the actual cost of owning and maintaining your home may be higher than you realize. According to a recent study,* average American home ownership costs are nearly $2,000 a month – above and beyond a mortgage payment. And those costs can spike significantly when unexpected major home repairs crop up. However, at Buena Vida Estates you pay a fixed monthly fee that covers most expenses pertaining to your residence. Plus, your fee includes gourmet meals, full amenities and services, clubs and activities, and, importantly, any long-term care you will ever need. You have one predictable monthly fee that provides an incomparable lifestyle and complete peace of mind.
We're not-for-profit, so we reinvest our resources in you.
We are not beholden to investors. We do not answer to the stock market. Our mission-based, not-for-profit status means our only financial priority is the health and well-being our residents. After we pay operating expenses, we reinvest all revenue back into our community to continue enhancing the unparalleled services, amenities, and financial security that make Buena Vida's lifestyle so remarkable.