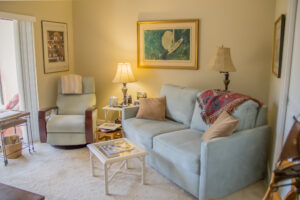 Most of us have been conditioned to believe that bigger is always better – a bigger meal, bigger car, bigger home. But sometimes you don't really need all that extra. Living in a smaller independent living unit might actually be the best option for you. 
Get All the CCRC Benefits at a Lower Cost
When downsizing and making the move to a CCRC, some residents want to find a space similar in size to the one they're coming from. But choosing a smaller CCRC unit (like a one-bedroom apartment) will save you a significant amount of money while letting you enjoy the same benefits as everyone else.
CCRC residents living in smaller units will typically save both on the entrance fee and monthly service fee. 
For example:
Regardless of their unit's size, CCRCs residents have a whole world of events and activities right outside their front door – exercise classes and sports, continuing education and art classes, cultural performances, social events, and more. There are plenty of opportunities to get out and socialize with friends, and living in a smaller space might even encourage you to do that more often – and we all know

how great socializing is for your mental and physical health

. 

There are usually plenty of community-maintained outdoor communal spaces at a CCRC, like walking paths, community gardens, and pools. So there's less of a need to have a huge backyard or patio attached to your living space.

Nearly every CCRC will also include at least one meal per day as part of independent living residents' contracts, so having a large kitchen to cook in isn't as necessary. 
Smaller CCRC Units Have Their Perks
Downsizing is hard and can be an emotional process, but don't lose sight of the many benefits of living in a smaller unit. In addition to eliminating clutter and unneeded "stuff," it can be a huge cost-savings for seniors. Choosing a smaller unit gives you all of the benefits of living in a CCRC (activities, services, and most importantly, peace of mind) but at a much lower cost. And with all of the opportunities to get out and socialize, you might not spend that much time in your unit anyway!