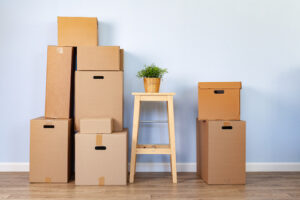 Many seniors put off moving into a continuing care retirement community (CCRC) simply because they feel like they're "not ready." 
Maybe they think they're not ready financially, maybe they feel like they're not old enough – but that "not ready" feeling usually has a lot more to do with the difficult emotions that can come with making a big life change.
Which is understandable. A lot of seniors have been living in their homes for years, if not decades. Their home is a place that holds years of memories. First steps, birthday parties, holiday celebrations, you name it. Selling that home and moving can feel like leaving all those things behind. 
Getting Sentimental
Second to the memories, comes the stuff. After years and years of living in one place, all the little things that you've bought or received as gifts can start to pile up. The thought of decluttering a well-lived-in home can be daunting. Not only because of the number of things, but because these things have memories attached to them, as well.
Between the memories in your home and the memories attached to your stuff, there's a lot of "letting go" that needs to be done. 
Tips for the Downsizing Process
Asking a friend or family member to help you is our number one suggestion. Not only are they an extra set of hands, but they're also moral support. Other helpful tips include:
Focusing on one room at a time 

Categorizing every item

Making sure you have boxes, tape, markers, trash bags, paper towels, and cleaning products ready to go
It's important to also keep in mind that you don't have to get rid of everything. If an item truly brings you joy, it should make the move with you to your new home. But if you need help deciding on what to clear out, here are some tips to help categorize your items:
If you haven't used the item in a long time and it has no sentimental value, add it to the donate pile.

If you're holding onto the item

just in case

, take a minute to really think about why. Is it because you think a loved one might need it one day? If that's the case, talk to them about it. If they don't need it, you don't either.

If the item has a lot of memories attached to it, and you're really not sure if you can let it go, set it aside. Put it in a box and come back to it another time. When you're not dealing with the fresh emotions of downsizing, you might be able to make a decision. 
Downsizing Can Be a Relief
Moving is hard work, and sorting through your life-long belongings can be an emotional process. Deciding what to keep and what to give away is a difficult task and most people will always feel like they're "not ready." 
But if you talk to people who have moved into a CCRC and made the decision to downsize, they have no regrets. 
No matter how difficult the thought of a move had originally been for them, they feel like a weight has been lifted off their shoulders. They know they get to continue to be surrounded by the things most important to them, while also having access to a continuum of care services if they ever need them – that peace of mind is what moving into a continuing care retirement community like Buena Vida Estates is all about.