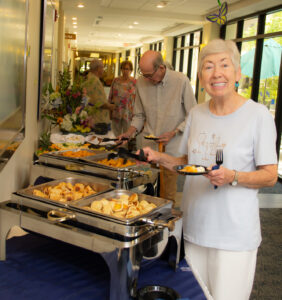 The idea of moving into an active, independent, premier senior living community sounds nice once you start thinking about retirement. You've done your research and you're ready to enjoy the type of healthy, worry-free future that only a true not-for-profit Continuing Care Retirement Community (CCRC) like Buena Vida Estates can provide.
While you understand all the financial benefits of moving into a CCRC, the idea of a large entry fee can be a little overwhelming. What do you get for that CCRC entry fee? How do people cover that hefty expense? Why do people choose to live in a community with an entry fee?
Let's take a closer look.
What do you get in exchange for a CCRC entry fee?
The main benefit of choosing a CCRC like Buena Vida Estates is access to a continuum of care services offered on-site to CCRC residents. This means access to care services, including assisted living, memory care, and 24-hour skilled nursing care without having to move all over again.
CCRC entry fees help offset the cost of these future services and can even be used to provide financial assistance to residents with a CCRC contract who can no longer afford the monthly fees, due to no fault of their own.
A guarantee, an actual contract between you and the CCRC, that states you will NEVER be asked to move from Buena Vida Estates regardless of financial or medical changes in your life is the security seniors are happy to have at a CCRC. At our community, we offer a Type A Contract.
How do people pay for their CCRC entry fee?
You might be wondering if the cost of a CCRC is in your budget. Here are a few different ways that people fund their CCRC entry fees:
Savings

Proceeds from selling their home

Bridge loans
Why choose a community with an entry fee?
A CCRC entry fee is more or less an investment in your peace of mind. Sure, you're spending more money upfront, but you're also ensuring you have a plan in place if things change in the future.
There will be a lower turn-over rate, your monthly fees will be less than they would be in other senior living communities, and you can relax knowing that your future care is covered here at Buena Vida Estates.