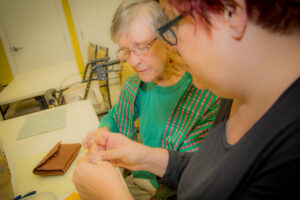 It can be hard to face the fact that our parents are getting older. While this can be an uncomfortable topic, it's essential to have this conversation as early as possible – before any accidents or health crises. If you wait too long, you might be forced to make a quick decision and your senior living options will be a lot more limited based on the level of care needed. 
We're going to share some tips for talking to parents about senior living options and why it's better to move sooner rather than later.
Research senior living housing options
Before discussing the idea, learn about the different types of senior living settings and the levels of care they provide. For many seniors, moving somewhere like a continuing care retirement community (CCRC) is the best long-term solution. That is because they also provide access to a continuum of care services, if and when your parents need them.
Keep your aging parents involved in the decision-making process
Understand your parents need to control their own lives. Your primary role might be serving as a resource and providing materials for them to read. You could also invite them to tour these senior living communities with you by their side.
Keep the discussion about senior living options going
This isn't a one-and-done conversation. Keep an open mind, adjust your approach as needed, and be willing to table the conversation for another day. This is another reason why it's important to have this conversation early. The conversation can be casual, everyone's opinion can be heard, and no immediate decisions need to be made.
Initiating the talk with parents about senior housing options
The best approach is to have a constructive conversation that starts with understanding that your parents want to keep their independence as long as possible. CCRCs like Buena Vida Estates are perfect for independent seniors looking for the carefree and fulfilling retirement of their dreams. 
Not only do they offer resort-style living that doesn't feel like a retirement home, but they also come with the assurance of affordable health care if and when it is ever needed.