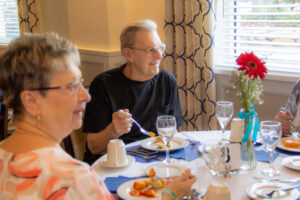 One of the main reasons people look forward to retirement is the opportunity to relax. It gets even better for those who move into a continuing care retirement community (CCRC). Here are just a few ways that CCRCs offer carefree, resort-style senior living to their residents.
1. Maintenance-Free Living
Independent living is for people who are still relatively healthy and able to live on their own, but that doesn't mean they want to worry about maintaining the interior and exterior of their homes. 
Most CCRCs will handle landscaping, snow removal, painting, and maintenance, so their residents won't have to worry about a thing.
2. Programs and Events
Another one of the perks of independent living is having the time to do the things you love. Social mixers, hobby groups, and exercise classes are just some of the many activities CCRC residents can enjoy.
3. Healthy Food
Most CCRC living units are equipped with full kitchens; however, grocery shopping, cooking, and cleaning all sound less than relaxing. To make life easier for residents, CCRCs usually work with a nutritionist and chef to provide a variety of healthy food options to their residents.
4. Transportation
Residents are welcome to have their own cars, but most CCRCs also offer transportation services. From shopping trips to off-site events, these services allow residents who are no longer able to drive the freedom and dignity to get to the places they need to go.
5. On-Site Care
While this isn't a benefit people particularly hope to use, it is one of the main reasons they choose to live in a CCRC. On-site care gives CCRC residents peace of mind, knowing that it's available – without them ever having to move.
Resort-Style Retirement
At Buena Vida Estates, we aim to provide our residents with a resort-style retirement lifestyle that makes independent living a little easier. They'll also have access to a full continuum of care that only a true not-for-profit Continuing Care Retirement Community can provide. If you're interested in learning more about living the GoodLife at Buena Vida Estates, contact us for more information.