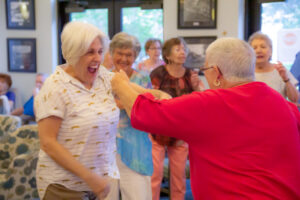 The quality of care provided at Continuing Care Retirement Communities (CCRCs) directly affects the overall well-being and satisfaction of residents. One crucial factor influencing the quality of care is the training and qualifications of the staff members. Let's break down how staff training and qualifications play a vital role in ensuring a high standard of care at CCRCs.
Expertise and Specialization
Well-trained and qualified staff possess the necessary expertise and specialization to cater to the diverse needs of residents at different care levels. From assisting with daily activities to managing complex medical conditions, a skilled team can deliver comprehensive and personalized care.
Person-Centered Care
Staff who undergo proper training are better equipped to adopt a person-centered care approach. They understand the importance of tailoring care plans to meet individual residents' preferences, goals, and unique requirements, fostering a sense of dignity, independence, and respect.
Safety Protocols and Emergency Preparedness
Adequate training ensures that staff members are familiar with safety protocols and emergency preparedness measures. This includes knowing how to handle medical emergencies, falls, and other critical situations, thus promoting a safe and secure environment for residents. For Buena Vida specifically, this even includes hurricane preparedness.
Communication and Empathy
Effective communication and empathy are vital for creating a compassionate and supportive caregiving environment. Trained staff can build meaningful connections with residents, fostering trust and enhancing the overall quality of resident-staff interactions.
Continuous Learning
The healthcare landscape is continually evolving, and ongoing staff training ensures that caregivers stay updated with the latest advancements in care. Continuous learning opportunities enable staff to implement best practices and innovative approaches to enhance the quality of care.
Staff Longevity
Buena Vida is one of the only communities that can boast of the length of time our staff has worked here. Our Executive Director has dedicated an impressive 13 years of service, providing steadfast leadership and a deep understanding of our community's needs. Our nursing staff, with over 20 years of experience, brings a wealth of expertise and compassionate care to our residents.
Our talented Chef, with 12+ years of dedication, continues to create tasty and healthy meals that delight the entire community. The Marketing team, with over 20 years of experience, has shown an unmatched ability to connect with residents and their families, making them feel at home from day one. Lastly, our Resident Services team, with 20+ years of service, remains an invaluable resource, ensuring our residents' needs are always met promptly and with genuine care. 
Promoting Independence
Properly trained staff understand the significance of promoting residents' independence and autonomy. They understand the delicate balance between providing necessary assistance and encouraging residents to maintain control over their daily lives.
Managing Memory Care
In CCRCs with memory care units, specialized training for staff dealing with Alzheimer's and other forms of dementia is essential. This training equips them with valuable skills to manage challenging behaviors, engage residents, and maintain a supportive and safe environment.
Team Collaboration
A well-trained staff can efficiently collaborate as a team to provide comprehensive care to residents. Effective teamwork ensures that each resident's needs are met holistically, with input from various professionals, such as nurses, therapists, and social workers.
A Higher Standard of Care
The impact of staff training and qualifications on the quality of care at Continuing Care Retirement Communities cannot be overstated. A well-trained staff means a higher standard of care, improved resident satisfaction, and an enriched and fulfilling living experience for all residents in the CCRC community.