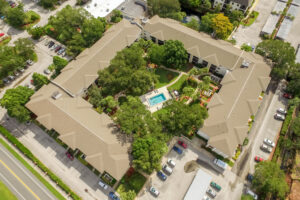 The mission of the Buena Vida Foundation, Inc. is to improve the quality of life for Buena Vida residents and make Buena Vida an even more desirable and caring place for its employees. It is a not-for-profit 501(c)(3) organization, with an independent Board of Directors committed to strengthening the Foundation's resources to keep serving seniors for decades to come.
Why Donate to the Buena Vida Foundation?
The Foundation funds capital improvements and employee education scholarships and it supports activities that promote the physical, spiritual and mental health of residents. It also supports outside charitable organizations.
Financial Support for Residents
The contract between Buena Vida Estates and our residents guarantees that residents will not be forced to move out if they end up unable to pay their monthly fees due to something like high medical expenses or stock market fluctuations. In order to avoid placing this burden on fellow residents, the Foundation supports them.
New Services and Facility Improvements
When we needed to hire more nursing staff and buy an extra van to transport residents, the Foundation was able to cover everything until Buena Vida Estates was able to adjust their budget.
When Buena Vida needed additional Assisted Living apartments, the Foundation donated $1,00,000 – provided by Shirley Sullivan, a Buena Vida resident – to jump-start the major expansion.
Scholarship Fund
The Foundation also supports continuing education for Buena Vida Employees and their children.
Who Donates?
Most of our donations to the Buena Vida Foundation are from residents and their families. Often, donors specify which funds or projects they'd like to contribute to. Our hope is to expand our donor base to further improve Buena Vida Estates and other local charitable organizations across Brevard.
Aside from donating, another way you can support is through AmazonSmile. Turn your amazon purchases into a good deed. With every eligible purchase, AmazonSmile donates a portion to the charity of your choice. Just make sure to select the Buena Vida Foundation, Inc. when shopping through AmazonSmile.