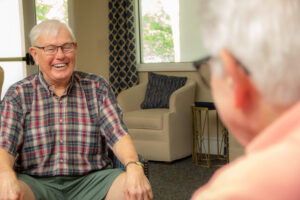 A common selling point of independent senior living communities is the fact that you're surrounded by like-minded people who are all enjoying retirement together. Even at Buena Vida Estates, we're constantly touting our resort-style, friendly, vibrant community. But we realize that could potentially come across as intimidating to some.
Introverts vs Extroverts
If you're familiar with the Myers-Briggs personality test, you already know about introvert and extrovert personality types.
Extroverts gain all their energy from their external interactions. They enjoy participating in a bunch of different activities and being surrounded by a variety of different people. They're typically seen as very outgoing and are known as the life of the party. It's easy to see how they would fit right in at a lively retirement community.
Introverts, on the other hand, are usually more on the shy side. They prefer to spend more time alone or with a smaller group of close-knit friends. But that doesn't mean a retirement community isn't for them.
A Place for Everyone
From dining and activities to everyday life, there are plenty of ways retirement communities are designed to also appeal to the introverts who live in them.
The best communities have realized that the more activities they can tailor to their residents' preferences, the happier their community will be as a whole.
For example, introverts at Buena Vida Estates might enjoy things like swimming laps in the pool, taking a walk around campus, and participating in a small art class or book club. At the same time, they'll also benefit from the social interaction they'll still get from seeing their friendly neighbors.
Everyone needs human interaction, whether you are an introvert or extrovert – a friendly smile, meaningful eye contact, and warm touch go a long way toward making a place feel like home. The ability to interact with others on whatever terms are most comfortable to you is one of many advantages that come with moving into a senior living community.
Keep Reading: How CCRCs Are Perfect for Any Personality Type