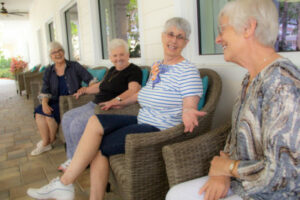 As adults, we know it can be difficult to make new friends, and it gets even harder the older we get. Think back to when most of your friendships were formed. You were probably still in school. It was easy to find a person or group of people that you shared interests with when you were constantly surrounded by the same people on a regular basis.
As we get older, there are a lot less chances for those opportunities. People move to different states, start families, and get new jobs. While all those things are happening, seeking out new friendships usually takes the back-burner.
By your 30s and 40s, most people assume they have "enough friends." Then as life goes on, the circle shrinks even more. People fall out of touch, and eventually get lost to illness and old age.
But social interaction is important and people need their friends – especially as they age.
Making Friends Later in Life
Put in the work.
Schedule regular get-togethers with old and new friends.
If you feel like you've connected with someone, don't be afraid to ask for their phone number.
Assume that people will like you and that they're also open to making new friends.
How Living in a CCRC Can Help Encourage New Friendships
Moving into a continuing care retirement community, like Buena Vida Estates, is a great way to make new friends. You'll become a part of a welcoming community that actually works to help foster these new relationships.
New resident welcome programs and welcoming committees help set up new residents for success. They not only help them get adjusted to their new living situation, but they help introduce them to existing residents as well.
In addition to that, CCRCs like Buena Vida offers plenty of events and group activities to help residents stay social and active. Between our holiday parties, group fitness classes, and game nights, you'll be sure to find the activities (and people) meant for you.