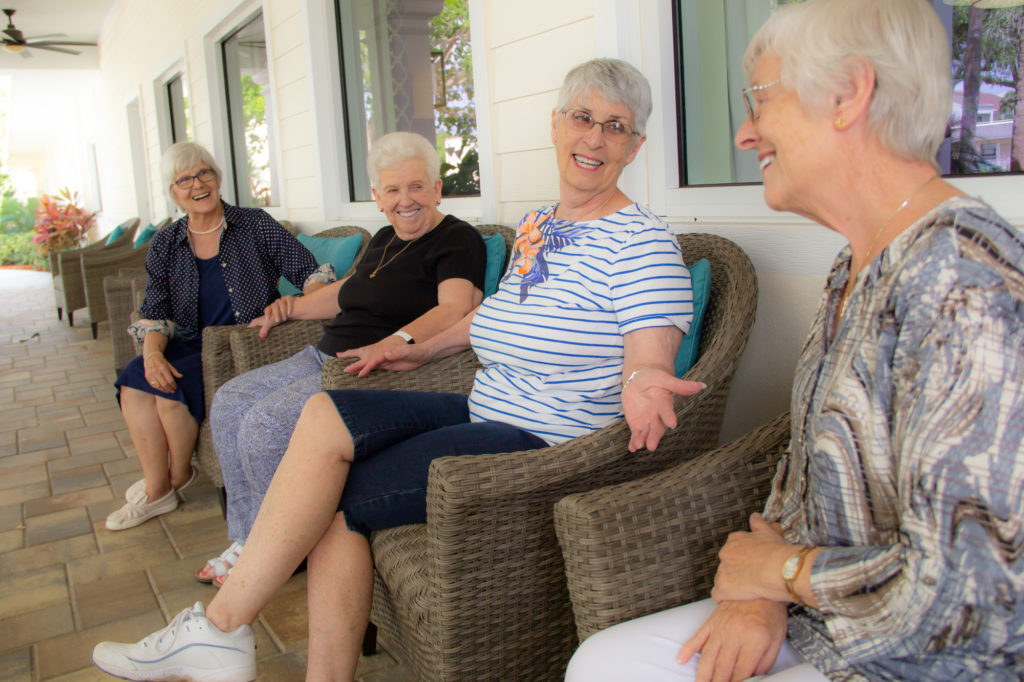 There are many things to consider when deciding where to live as a senior. Among them are location, quality, amenities, contract terms, price, and care services. While the internet has made researching CCRCs, or Continuing Care Retirement Communities, much easier, still the lists of features can seem overwhelming. To decide the best option for your circumstances, it helps to have a checklist of questions handy. This way you can compare and contrast the answers to pick the best community for your needs.
1. How Many Independent Living Residences Are There Compared to Healthcare and Assisted Living Residences?
While some CCRCs provide mostly independent living dwellings and a small number of units with the availability of skilled care or assisted living, one concern is that not all residents will receive the adequate care they need when the need arises. This is especially a concern in newer communities. These facilities might need relatively few staff members for thorough care at the onset but require additional support to care for residents in the future. On the contrary, other CCRCs may have evolved from nursing care facilities, adding independent living.
2. To What Extent Has a Facility's Monthly Rates Changed in a Span of Five Years?
This information is useful in two ways. First, it provides an indication of the way prices will change in the future, permitting you to plan appropriately. Second, it offers insight into the facility's capacity for finance management. Remember that an average fee increase of three to four percent yearly is not uncommon.
3. What Services Does the Monthly Fee Cover, and What Services Cost Extra?
When providers share their monthly rates, always look to see what service types are included so that unfortunate surprises can be prevented. One example would be whether utilities are covered within a monthly rate; another is the number of meals included for each day. Consider future needs as well. If care services will be needed, how much extra will they cost, if they are indeed extra? The answers are vital to accurate planning when living in residences such as Buena Vida Estates.
4. How Experienced Are the Management and the Board?
For high operating standards, an experienced management team is essential. Likewise, an experienced board of directors of a not-for-profit facility is vital for the diligent management of resources. Look for boards that are professionally and culturally diverse, with directors who demonstrate backgrounds in real estate, healthcare, finance, and hospitality. Look for management teams with a history in continuing care community supervision and organization.
5. What Changes Will Occur to My Monthly Rate If I Require Skilled Nursing Care or Assisted Living?
CCRCs offer several different contract types. The key is to understand with each what happens to the monthly fee structure when greater degrees of care are ultimately required. In the general scheme of things, there is a trade-off between the amount you pay for care services and the amount you pay for independent living. Some contracts have you pay less for the latter. Other contract types have you pay more initially, with care services offered at a rate that is deeply discounted. Among other services, Buena Vida Estates offers Physical and Occupational Therapy Services on a fee-for-service basis.
6. Should I Require Extended Time in the Center for Healthcare, What Happens If My Money Runs Out?
Particularly not-for-profit providers, but most CCRCs in general, will assist residents in remaining where they are if their finances run out due to circumstances not of their own devising. Many providers even maintain financial assistance funds to offer help in such situations. In cases where a refundable fee is due to a resident, that fee is first tapped into. In other cases, there is the possibility of additional financial help as a loan.
7. Where Refundable Entry Fees are Offered, What are the Facility's Stipulations for a Refund Request?
When you consider a CCRC that offers entry fees that are fully or partially refundable, ask if the community-held home or apartment needs to be resold prior to receiving a refund. Ask if the refund grows available upon moving from independent living into a residence of more involved care. Discover whether or not there is a time limit within which the refund will be paid. Also, find out if monthly fees continue for yourself or your heirs.
8. Does the Published Rate for Services Involving Healthcare Include a Private or Semi-Private Room?
Some facilities only provide private rooms. Others have the option of both semi-private and private, with the default included room being of the former variety. A private room would then be an added cost if desired.
9. Can You Provide Me with Information that Ensures the Care Level of Your Healthcare Center is only the Highest Quality?
While it may be many years before the need for healthcare services arises for you, it is important to know that, upon that day, your care will be the best possible. Inquire about touring the healthcare facilities. On that tour, watch the care team closely and take careful note of the facilities. Are the staff cheerful and attentive to those in their care? Does the facility have an odor, or is it clean and fresh? 
10. Can You Provide Me with Information that Ensures Your Community is Financially Capable of Meeting its Overall Commitment to Residents?
A CCRC needs to have strong financial footing and standing in order to fulfill the obligation it has to its residents. Seek the help of a financial professional; such a person can assist in analyzing financial ratios that are key, such as debt service coverage and operating margins. Look initially for a willingness by the facility to share its audited financial statements, facilities that are well-kept, and have positive net worth, as well as those with an experienced team of managers. 
Asking these 10 questions of any CCRC you consider will help you to make a thorough comparison of the available options and make a sound decision for healthy senior living. To find out more about Buena Vida Estates, contact us today.