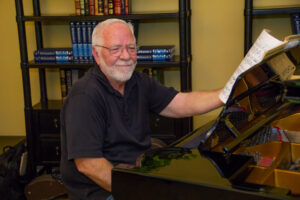 The phrase "independent living" seems to have different meanings for different people and it's even used to cover a wide range of living situations within the senior living industry. So let's take a closer look at the meaning and different forms of senior living it's applied to.
Living "Independently" at Home
Many people consider "independent living" as seniors who still live in their own homes. This is also known as "aging in place."
In some cases, these people don't require any kind of assistance. However, people sometimes stretch the term "independent living" to mean "avoiding assisted living."
For a lot of seniors who stay in their own homes, they do end up needing care services to keep them there. This can range from just a little help with food prep or medication management to needing a full-time home health aide. This means it's no longer really "independent living." 
True Independent Living in a CCRC
For people with the "avoiding assisted living" mindset, the idea of moving into a retirement community can be hard to grasp. But the independent living portion of a CCRC is truly just that – independent. 
Most seniors at a CCRC, like Buena Vida Estates, are living in their own apartments or cottages and leading active lives without any need for assistance. In fact, residents actually must be fully independent and meet certain health requirements in order to move in.
The benefit of a CCRC is that when it comes time for these residents to need a little bit of help, it's there. We provide our residents with a continuum of care services if and when they are needed. This includes skilled nursing, memory care, and more.
In addition, Buena Vida Estates has a "Type A" contract, which means we provide care and services during one's lifetime and a financial assurance that they will not be asked to leave should they deplete their assets (beyond their control). 
It's the peace of mind and independent living you deserve.