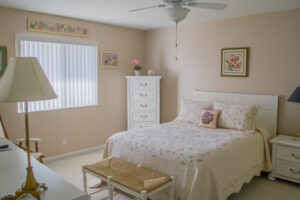 Despite the luxuries of many senior living facilities, today's seniors still have a strong desire to stay in their own homes for as long as possible – this is known as "aging in place." Some surveys have reported that as many as 76-90% of seniors say they want to age in place.
After all, staying in your own home as you get older has many benefits. But for some, it can be risky.
Here are some questions you should ask yourself before deciding whether or not to age in place:
Will you need to modify your home at some point to accommodate changes in your mobility?

Who will perform routine maintenance on your home if you are no longer able to?

Do you have ways to stay socially active and avoid loneliness, which can have many negative health effects?

What will you do to make sure someone is alerted if you fall and cannot get up on your own?

Who will help with your day-to-day needs (bathing, dressing, using the toilet, etc.) if you are no longer able to care for yourself?

When you're no longer comfortable or confident behind the wheel, what will you do about transportation?

How will you pay for around-the-clock home care if it becomes necessary?

If a time eventually comes when you no longer can receive the level of care you need in your home, where will you go to receive such care, and who will coordinate that process for you?
The Reality of Aging in Place
Aging in place is appealing for several reasons. Your home is familiar, full of fond memories, and comfortable. But there are drawbacks to staying in a home that may not have been built for an elderly person.
It's important to consider the big picture before choosing to age in place. You may just decide that another senior living option is better for you in the long run.