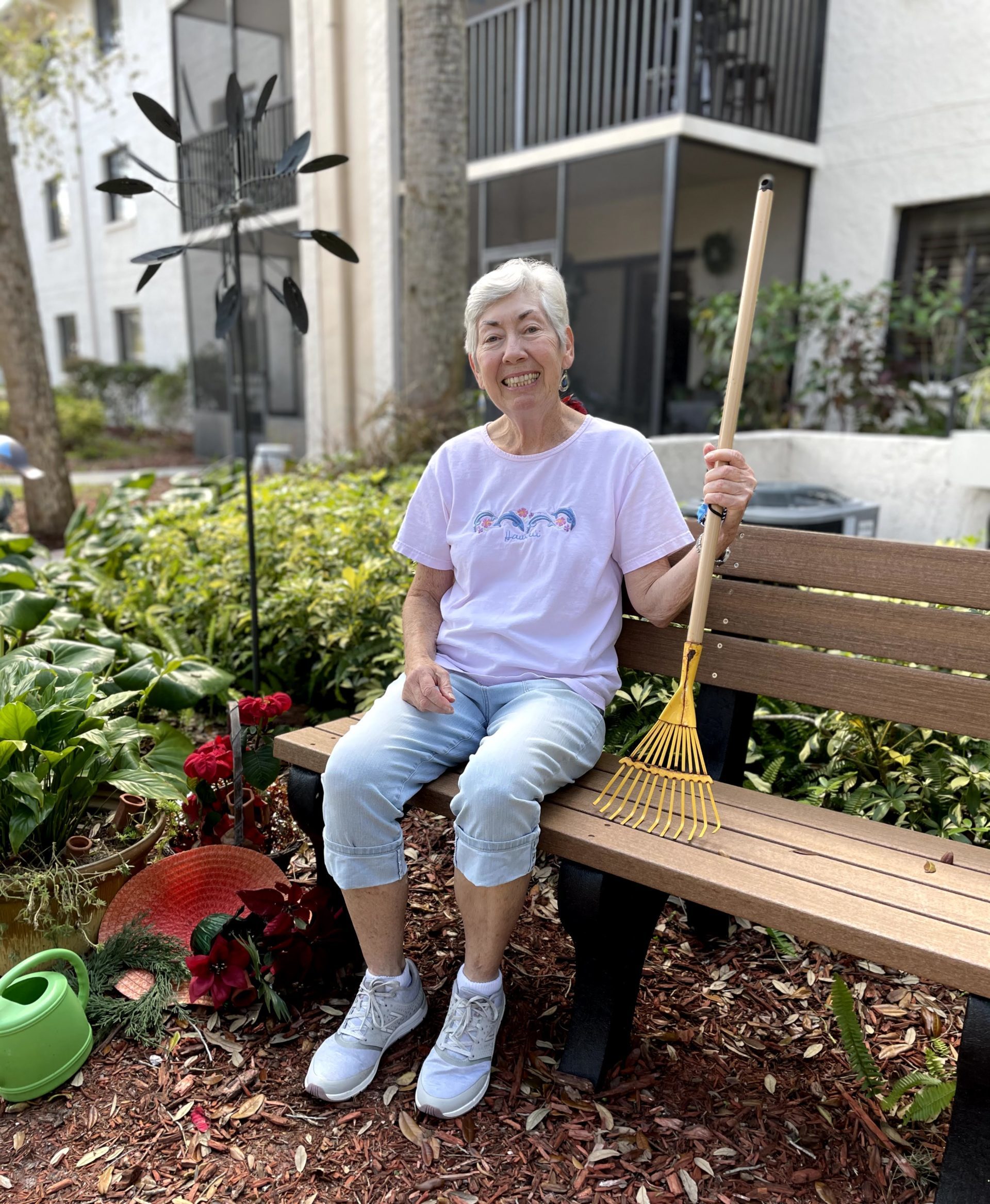 Living at Buena Vida Estates means that you get to enjoy a warm climate all year long. Brevard County's tropical weather is ideal for year-round gardening. Many scientific studies have found that getting outdoors and doing some gardening has a big boost on your mental health.[1] Even if you cannot plant an outdoor garden, you could bring the outdoors into your apartment or cottage with some lush houseplants. Read on for some tips and advice about how gardening or growing houseplants can uplift your spirits and mental health.
Nature Promotes General Well-Being
When you go outdoors and physically interact with nature, the experience has impacts on your overall psychological wellness. Plants are a symbol of life. Living and spending time in an environment with natural grass, shrubs, trees, and flowers helps you feel connected to the world.
Increasing Positive Thoughts
Seeing plants lowers your risk of developing depression.[2] If you've been diagnosed with depression, a view of shrubs, hedges, trees, flowers, or gardens could reduce your symptoms. The reduction of depression symptoms can last for years when you see plants on a daily basis. If you can get out and take short walks through a garden, you could see considerable improvements in your mood. At Buena Vida Estates, our well-manicured gardens surround the cottages and apartments. You won't have to go far to enjoy a stroll through a verdant landscape.
Heal Faster
If you have aches and pains or recently had surgery, surrounding yourself with plants or sitting in a garden could help you heal faster. Healing gardens provide a type of refuge from stress. When your body isn't dealing with a high level of stress, it can focus on healing and recovering from an illness or injury.[3] If you're worried about your health or the health of someone you love, spending time in a peaceful garden could calm your mood. If you're not able to plant some vegetation next to your cottage, houseplants are an excellent alternative. With so much natural sunlight coming into your cottage, you'll be able to have your choice of tropical foliage. For a burst of color, try growing orchids in your apartment. They benefit from the warm temperatures, humidity, and diffused sunlight common in Buena Vida Estates' homes.
Improve Hopefulness
Many mental health conditions begin with hopelessness, and you may feel like you can't control your life, but when you spend time in nature, your sense of hope for the future increases. Getting back into nature will help restore your sense of hope. The cycles of nature are a clear demonstration that while change happens, it's necessary. Change can bring about good things. Even when the petals of a flower drop off the plant, the plant is able to move into the next stage of its growth and lifecycle. It has to go through each phase. Even when a plant goes dormant, you know that an increase in sunlight, temperature, or moisture will bring it back into its glory. Nature restores hope and shows you what's possible.
Decrease Anxiety
If you worry a lot, can't stop worrying, or worry about too many different things, this lowers your mood. Growing a garden, spending time in a garden, or raising some houseplants could reduce your symptoms. Gardens and houseplants could play a role in practicing mindfulness. The practice of mindfulness is an important way to manage the symptoms of anxiety.[4]
For example, if you're worried about pending test results, sitting on a bench in a garden gives you a chance to focus on something else. Look around and name all the colors you can see in the plants. Look at the variations of the colors. Some leaves might be mottled, while others might have stripes. Look at the flowers in detail. Some have striations, while others have a gradient. Notice the insects that visit the flowers. Some might move quickly from blossom to blossom, and others linger for a while.
Close your eyes, and listen to the sounds in the garden. You might hear crickets, birds, or the rustling of leaves. With your eyes still closed, take in a deep breath. You might smell the fragrant blossoms, an earthy smell of leaves and soil, or the scent of recent rain. Touch a dropped flower petal or tree branch. You might sense smoothness, roughness, bumps, or lumps. Engaging all of your senses with nature will lower your heart rate and blood pressure.[5] A fast heart rate is a common symptom and physical manifestation of anxiety.
Feel Accomplished
After retiring, you may not feel the sense of accomplishment that you did while in the workforce, volunteering in the community, or raising a family. By growing houseplants or a garden, you can regain that sense of accomplishment.[6] You might choose to specialize in growing a certain type of garden or houseplant. The sense of satisfaction you get when growing a butterfly garden from seeds or seeing the first blossom on your African violet will give your mood quite a boost. Looking at the colorful flowers, lush leaves, and vigorous growth of your plants will make you feel like an expert gardener.
At Buena Vida Estates, we encourage our residents to enjoy the beautiful surroundings. Whether you decide to plant some fresh mint or grow succulents in your kitchen, you'll benefit from the indoor and outdoor beauty and calmness of plants. To learn more about living in our community and how serene surroundings can give your mood a lift, reach out to us today.
References:
[1] https://agrilifetoday.tamu.edu/2020/05/18/gardening-can-influence-and-benefit-your-mental-health/
[2] https://www.ncbi.nlm.nih.gov/pmc/articles/PMC6334070/
[3] https://www.takingcharge.csh.umn.edu/explore-healing-practices/healing-environment/what-are-healing-gardens#:~:text=The%20term%20healing%20gardens%20is,patients%2C%20families%2C%20and%20staff
[4] https://ngb.org/2017/04/11/why-and-how-to-create-a-healing-garden/
[5] https://www.health.harvard.edu/heart-health/mindfulness-can-improve-heart-health#:~:text=A%20meditation%20practice%20supports%20your,heart%20rate%20variability%20(HRV)
[6] https://www.goodhousekeeping.com/uk/house-and-home/gardening-advice/a32223000/gardening-for-wellbeing/