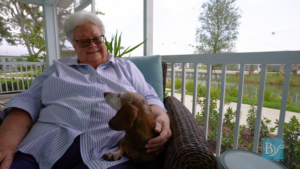 Meet Ali, one of our new residents who moved into our brand-new cottages. She and her husband had been on Buena Vida's mailing list for some time, but once they saw the cottages, they knew it was the perfect time to make the move to a CCRC. 
She knew that moving into the cottages would allow her to maintain her independence, while also being able to own any decisions regarding her future care (both medically and financially). She would have the peace of mind that comes with living in a CCRC and wouldn't have to depend on her sons in the future. 
What She Loves Most About Her Cottage
"We decided to see what it was like and fell in love head-over-heels," Ali said when asked about her cottage. "It feels very much all mine."
Our cottages truly feel like a home. With two-car garages, screened-in lanais, and guest bedrooms, they are worlds apart from our apartments and were specifically designed with our most independent residents in mind.
What She Loves About Buena Vida
Ali loves to spend her Saturdays at the clubhouse playing mahjong and enjoying our other amenities. 
Between the security of a "Type A" contract, a luxury resort-style campus, and a vibrant community – it's easy for our residents to live the GoodLifesm!
"One of the things that made me really happy was that it's quiet and I feel safe. Everyone's out to help, everyone has a smile. Surprisingly, they know my name already."
Life at Buena Vida
To learn more about our community here at Buena Vida Estates, read more about our previous featured residents.