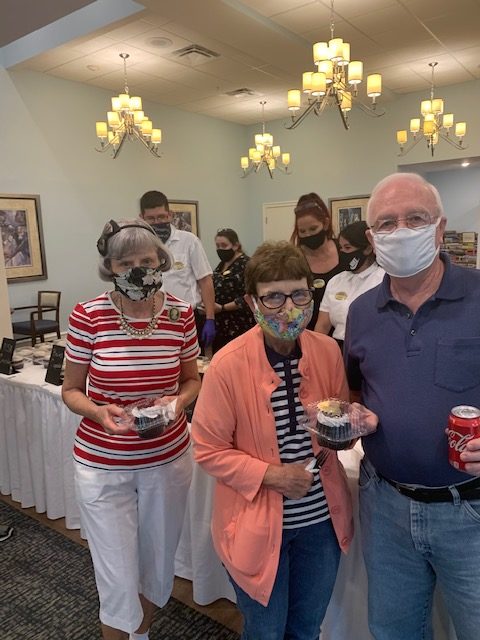 New Thoughts on Post-COVID-19 Senior Living
There are many considerations to make when planning the senior years of our lives. Financial resources, friends and family, and health are factors we look at when making those plans. In 2020, COVID-19 came along and changed how many of us look at retirement planning. There was no ignoring that it would be a factor for every senior going forward.
Buena Vida Estates is a continuing care retirement community (CCRC) that knows how important retirement planning is. We also know that COVID-19 is of high importance when discussing these plans.
Age in Place
The simple definition of "aging in place" is deciding to stay in your own home instead of moving into a senior assisted living situation.[1] Aging in Place is the key question many start with when making retirement plans: Do I stay at home, or do I move into an assisted retirement community?
COVID-19 has complicated the age in place question with the changes it brought to all aspects of life. Seniors who once thought that they were secure with staying at home through their retirement years now had to consider how the virus would affect their daily lives.
A CCRC, such as Buena Vida Estates, is an option to consider with the threat of COVID-19 on the table. With a CCRC, residents move in planning to be there for the rest of their retirement years. The advantage is you stay with your community of friends throughout the years. If more care is needed, the facilities and resources are available without having to relocate. [2]
Aging in Place Pros and Cons
Just like any important decision in life, aging in place pros and cons are important to consider. COVID-19 has been unpredictable in how it affects our lives and where it seems to go next.
At first, a retirement community could feel like a poor decision. Seniors, being at a higher risk for health complications, all living close together sounds like the perfect environment for the virus to take control. At the same time, however, that community has more resources to provide a defense.
Medical situation response is already part of the design at aging in place programs. [2] While COVID-19 has pushed the limits on the system, those living in a community have a far better chance of receiving an effective response than those who would be in their home alone, especially with everyone limited to when they can go outside.
The CCRCs also serve as a defense against the outside world. [3] They can limit who comes and goes from the community, restricting and inspecting the people, products, and food that pass through. There is a better chance of someone not contracting the virus if protocols are put in place.
At the same time, restrictions can also be a con. Restrictions on people mean that family members may not be allowed to visit, cutting out the valued relationships important to residents. It also may mean that certain items and food will not be available even if the resident was able to have it before.
Although rules are made for the greater good of the community, living under them can take away from the feeling of being independent and respected. While this is an unfortunate sacrifice, lessening the chances of exposure is usually considered more important, and therefore, it is an acceptable sacrifice.
Another issue that COVID-19 has caused is the disruption of the supply chains of the products we use daily. Deciding not to move because everything looks good in the current home is a reasonable conclusion to reach. Because the outside world is functioning differently, seniors may not be able to get the supplies they need. Not having essential items readily available and nearby for them to get could become a problem.
While living in a CCRC does not guarantee that supplies will be available, the chances of procurement are much higher. As a collective group, the residents of the community are seen and paid attention to.[3] CCRCs also have the staff and resources to get supplies remotely, limiting exposure of the virus to residents.
Why Is Aging in Place Important?
As independent adults, we all can understand the feelings associated with losing the ability to function the same as we once did. If and when the time comes to need assistance, the psychological effects can be hard to deal with for that individual. The children or loved ones around this person may not know how they will react, and they may not have the time or resources to be there like they would want to.
Our senior years can be challenging, but adding changes, such as moving away from a familiar area, can compound it. Aging in place is important because it reduces the negative effects on a person during this time. Being prepared for the future reduces the potential unpleasant adjustments that could happen.[4]
COVID-19 has proven to only add unexpected problems to our lives, especially in the senior population. This added threat is why a CCRC living situation may be an option to consider more than ever.
Aging in Place Solutions
At Buena Vida Estates, we understand how important these decisions are. We also know that COVID-19 has added even more to think about. As the premier senior living community in Brevard County, we are here to answer your questions and provide quality solutions for the later years.
As the only non-profit CCRC in the area, we pride ourselves on healthy senior living and quality of life in a community that cares about each other. Here are some Reasons to Move to a CCRC Earlier.
Please contact us to learn why aging in place is important and to see everything we have to offer.
See what we're doing to keep our resident's safe and happy:
References
[1] https://www.seniorsresourceguide.com/articles/art01109.html
[2] https://www.aarp.org/caregiving/basics/info-2017/continuing-care-retirement-communities.html
[3] https://seniorhousingnews.com/2020/10/01/pandemic-prompts-ccrcs-to-diversify-services-refocus-on-value-prop-to-consumers/
[4] https://www.agingcare.com/articles/expert-advice-on-aging-in-place-426721.html