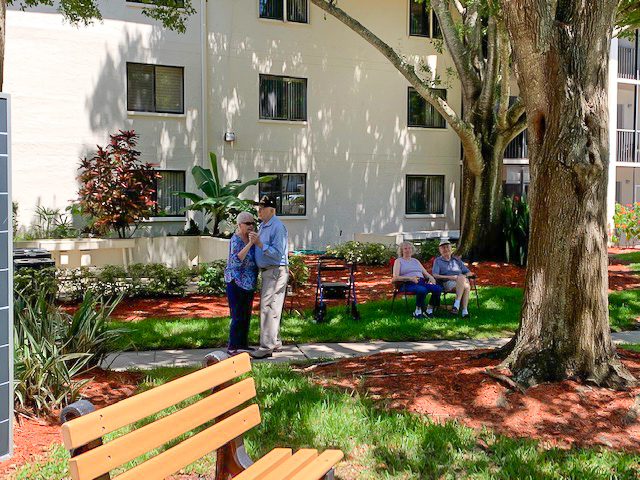 "I'm not ready yet!" is a common response to the conversation of whether it is time to explore independent living options such as a CCRC (Continuing Care Retirement Community).
There are so many reasons to begin exploring CCRC as an option earlier than one would think and the biggest reason delay as long as they can is mostly due to misconceptions of what a CCRC is (learn more about what a CCRC is here).
We understand that making this choice can sometimes feel like an "end", but because of the unique opportunities of a CCRC, in reality, it is simply the start of another chapter. Buena Vida Estates believes this kind of decision is all about achieving the best quality of life, which is why we have been committed for over 30 years to making it easy for you to live the GoodLife℠!
So here are some great reasons to begin exploring that GoodLife℠ now with a resounding and enthusiastic "I'm ready!".
1. Activities, Programs & Amenities that provide quality of life.
One benefit of becoming a member of a CCRC community sooner is that you will have greater access to an array of various activities & programs as well amenities and services available in the CCRC. By taking action when you are younger, you can take full advantage of these perks, leading to a more fulfilled and enjoyable life. Some who engage with CCRC's later, are not able to take advantage of all they have to offer.
2. Join well and stay well!
The most important objective of a CCRC is for residents to live healthily and independently for as long as possible. The best time to move is while you are able to enjoy all that Buena Vida has to offer, knowing that you will qualify for continuing care coverage, which is one of the greatest advantages a CCRC has.
This continuing care coverage ensures you will have a seamless transition should you ever require short or long-term care in the future. This takes away the worry of having to wait for an "incident" before deciding it is time to choose a retirement community, and instead provides the peace of mind that you can enjoy the best life has to offer while knowing that if you ever need the extra care, it will be ready for you when you need it.
Not to mention that Wellness services at Buena Vida Estates include fitness and aquatic centers, access to fitness trainers, special diet meal plans, yoga classes, low-impact aerobics, and others. These programs are aimed at developing the mind, body, and soul.
3. Building relationships is what makes it a community.
Moving to a Continuing Care Retirement Community early enough gives you ample time to create meaningful relationships. What's a community without those that make it so much more than a building, programs, and activities! Friends can offer laughter, build memories, and can even offer support and encouragement when you need them most. If you join later, you may miss the opportunity and time to form these relationships.
4. Choosing to move sooner, ensures you will qualify.
The CCRC contracts require one to be able to live independently when moving into the community. Many communities also conduct a health evaluation for prospective residents during the application process. Those who do not meet the required standards are declined. Joining too late may mean missing out on CCRC benefits.
5. Moving while younger is an easier task and better for your health.
Moving can be a daunting task, both physically and mentally. Moving while younger becomes much easier since you are more able-bodied and in good health to handle the stress that comes with it. Moving while older increases your chances of experiencing relocation stress syndrome (RSS) which includes symptoms like confusion, anxiety, and loneliness.
6. Remove financial worries and begin enjoying the GoodLife℠
When you become a resident in our community, you no longer need to worry about financial security, the rising cost of health care, property taxes, insurance, and home maintenance costs.
Many delay their decisions due to uncertainty about the effect on their finances, however, a CCRC with a "Type A" contract is financially safe and you can rely on the fact that you will never be asked to leave should you outlive your assets or experience a loss of health.
Making the decision now means less time worrying about your finances and more time enjoying the GoodLife℠!
No better time than now!
A CCRC is more than just a place to live. It's a community where residents can form friendships, experience financial peace, and live full lives knowing they will have the care they need… when they need it. Buena Vida Estates is a CCRC that offers an opportunity to enjoy an active and enriching lifestyle.
So if you are thinking "I'm ready!", contact us today to schedule a visit.