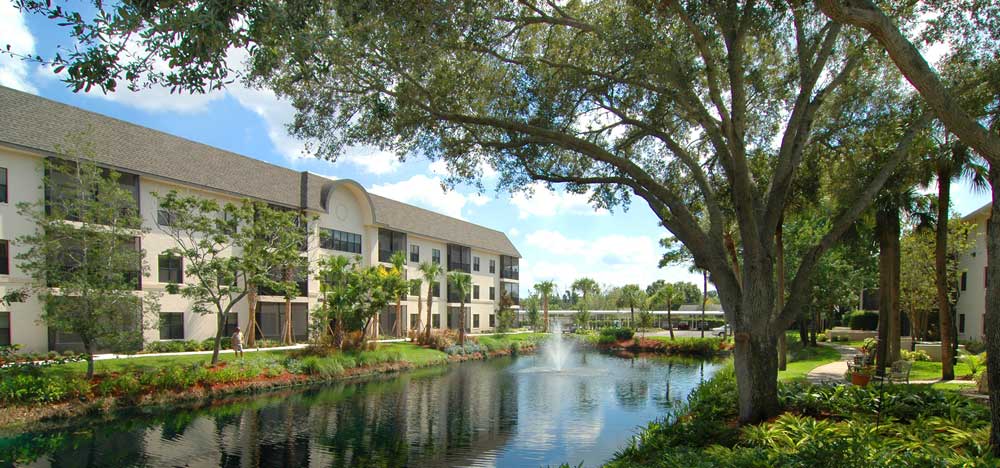 Ralph Bishop didn't have to do much research when he decided to move into Buena Vida Estates in West Melbourne. In fact, he was more appropriately a source of data for potential residents at the time.
Bishop, who moved to the retirement community with his wife in 2014, had been working as the company's chief financial officer since 2001. He still does part-time financial work for the organization.
When the couple moved to the independent living apartments at the community, people would remark on his decision. They noted that having worked full time at Buena Vida for a dozen years, he still chose to live there. And he would reply, "Absolutely."
Buena Vida Estates, a not-for-profit continuing care retirement community, offers residents a full continuum of care, guaranteed for life. Residents enter the community through the independent living apartments with a contractual agreement that assures them they can move, when needed, to any level of care required to live out their days in comfort on site.
That promise resonates with today's older adults. "This generation has had the experience of taking care of their adult parents, and they don't want to burden their children," said Doreen Boudreau, marketing director. "Everyone is under the misconception that Medicare will take care of you," she said. Instead, the government-sponsored elder health care pays only a portion of typical residential skilled care expenses. Residents of Buena Vida, however, pay a contracted monthly amount and never need to worry that costs will balloon if they or a spouse needs assisted living or nursing home care.
The opportunity to live a healthy, independent life was an attractive feature to Elizabeth Buchy, who moved into the community earlier this year. She helped care for her mother during the last five years of her mother's life. "We all worked. She didn't want to be a burden. It was just an awful worry," Buchy said. She was able to continue working in New Jersey and assist in the care. "We decided we would not do that to our children," she said.
To that end, Buchy takes advantage of the extensive exercise classes offered at Buena Vida. She particularly enjoys chair yoga and appreciates the skill of the instructor to tailor exercises to student needs.
Buena Vida also offers swimming, bocce ball, tai chi, strength training and other opportunities for fitness. "There's anything you're interested in. If they don't have something, they'll get a group together and start it," Buchy said. Certified instructors are adding Zumba classes based on interest expressed by residents.
In addition to physical wellness, Buena Vida focuses on intellectual, social and spiritual wellness. To that end, the community offers lectures, often delivered through a partnership with faculty of Florida Institute of Technology. One in particular that intrigued Bishop was a series on musical entertainers that included information about the artist as well as performance of their music.
That series continues in July with a presentation on Willie Nelson. Other lectures will address the history of the American flag and "The Making of an Adventurer" by a maritime historian. Lectures are free and open to the public. There also are a variety of classes, including painting watercolors, quilting, and more.
The lifestyle choices and arrangement was the perfect combination for resident Gordon Straw. He'd seen his parents live long lives in a vibrant community in Virginia, so he had a model or what he wanted for himself.
"This is the first place I checked out, and it turned out to be the only place because it fit," Straw said, noting that his brother and sister-in-law live in Buena Vida Estates, also. "They take care of everything. You're here and you stay here. That is really a relief," he said.