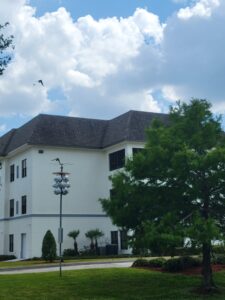 In our close-knit community, we are blessed to have individuals who go above and beyond to contribute to the well-being of our natural surroundings. Today, we want to shine a spotlight on the residents who dedicate their time to nurture and protect the Purple Martin nests in Brevard County.

The Purple Martin's Story
The Purple Martin is a remarkable species of migratory bird that visit Buena Vida Estates every year. Known for their aerial displays and musical chirping, these birds also do their part by eating insects, like pesky mosquitoes. However, their numbers have declined due to habitat loss and competition from invasive species.

Our Conservation Hero
Meet Hugh Nicolay, a lover of nature and a passionate advocate for the Purple Martin since moving to Buena Vida in 2016. With the help of his "co-landlord", (the unique name for Purple Martin Caregivers) Mike Dingman and his 20+ years as a recognized Purple Martin landlord, they devote their time to protecting and caring for the Purple Martin nests right here at Buena Vida Estates.
Have you seen the white "Gourds" (nests) we have on the corner of our campus? Those are the Martin houses! These protective housing structures provide the birds with safe and cozy places to raise their young.
Hugh and Mike meticulously monitor the houses, clean and fill them with pine straw, and twice a week check on the eggs and the babies to ensure they are free from any potential threats.

Purple Martins Schedule
The "scouts," as the first group of Purple Martins are called each year, appear in January from South America, Brazil and the Amazon. In February, the eggs start appearing. By June the Purple Martins are leaving our nests and headed back to South America by August. These same birds will be back in our area next year, but it's not known if we get the same birds as last year's group. It's hard work, but it is all a part of protecting future generations of purple martin nests in Brevard County!

Last year Hugh, Mike and Buena Vida Estates reported 88 eggs in 17 active gourds! Sixty-five fledged birds, a remarkable 74% – and 2023 promises even higher numbers.
Working Together to Protect Purple Martin Nests in Brevard County, FL

The collaborative efforts of Hugh and Mike serve as an inspiring example of how individuals, with their shared dedication and passion, can create a lasting impact.
We are immensely grateful for the commitment and devotion displayed by Hugh in protecting the Purple Martin nests. And we love getting to see these little birds come to visit our home every single year. To learn more about the purple martin click here.

To learn more about what our residents are up to, take a look at our previous featured resident spotlights.