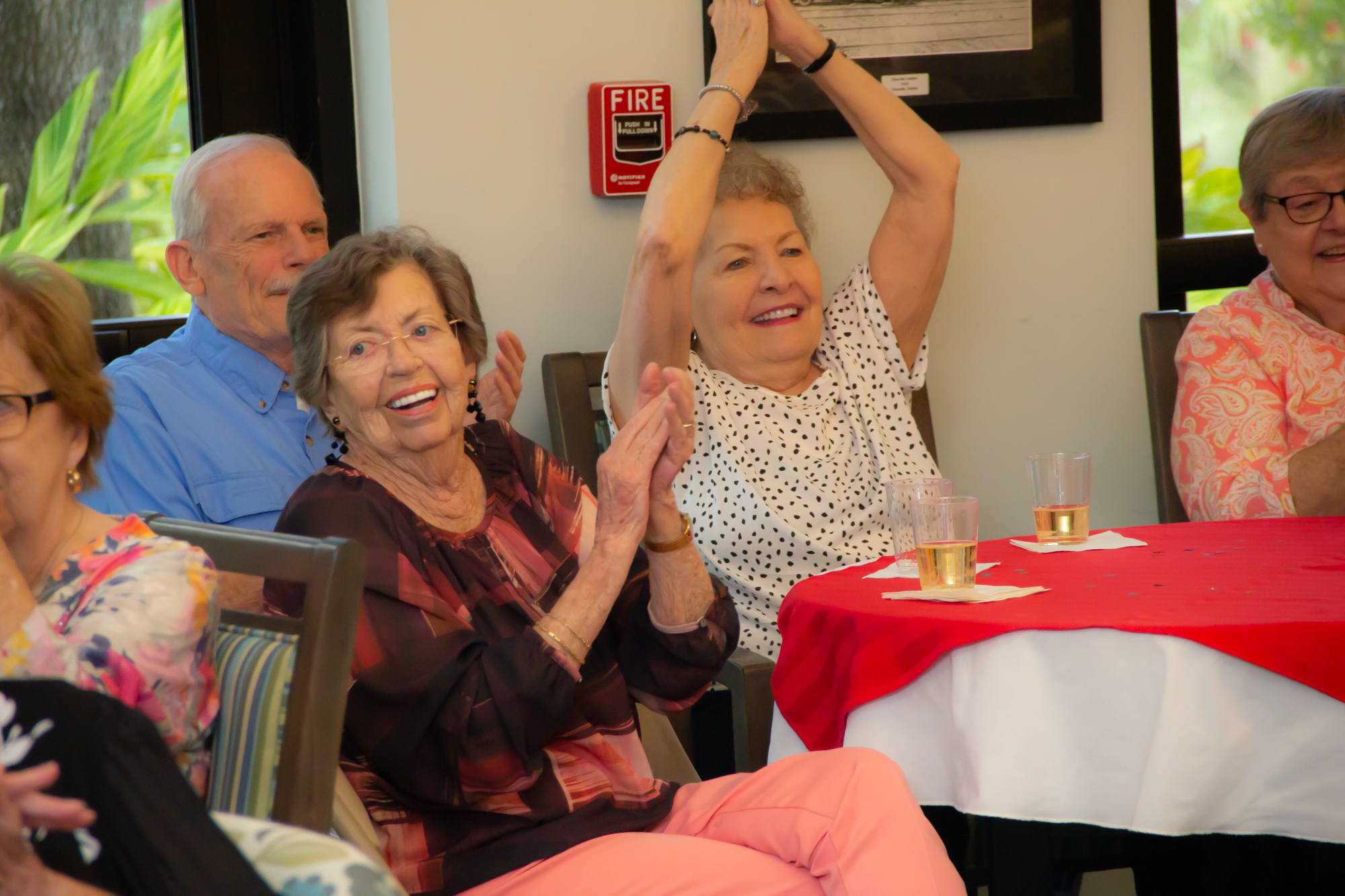 Over the years, research has shown that there is a deep cognitive link between music and memory. [1] Many health professionals and institutions have even found that personally meaningful music has been shown to improve the quality of life in seniors with dementia. [2] Older adults reap multiple benefits from music and seniors can enjoy music not just for pleasure, but for real gains in health and wellness too.
With this in mind, it comes as no surprise that music plays an important role in the lives of those in Continuing Care Retirement Communities (CCRCs). CCRCs take a holistic approach to senior care needs so that seniors have access to multiple levels and methods of care, including activities and programs that benefit their cognitive wellness. 
Benefits of Music and Memory For Those in Retirement Communities 
The enjoyment of music is part of an active and healthy lifestyle. Music, memory, and mood are deeply connected, and there are a number of benefits seniors experience when music is integrated into their day-to-day activities. 
Music Can Help With Memory Retrieval and Storage
As previously mentioned, music has been shown to positively impact patients living with dementia and Alzheimer's disease. This is because listening to and performing music affects areas of the brain that are associated with memory. [3] 
Studies have shown that music and memory are connected in two key ways: memory retrieval and memory storage. [3] Firstly, music can help us call up a stored memory. For example, when a senior hears a song on the radio from their teenage years, they might find themselves recalling memories of that certain time and place. Secondly, music helps us lay down or store new memories. Some studies suggest that this is because music can evoke strong emotions, and those emotions become encoded in our memory. [4] 
The Connection Between Music, Memory, and Mood 
Music, and our experiences of music, are deeply connected to mood and emotion. Clinical researchers have found that listening to music can boost mood and reduce anxiety. [5] This is because music is an important part of the human experience. It brings people together, and participating in clubs and activities that revolve around the shared joy of music can help seniors lead an active and positive lifestyle. Singing and dancing can be a socially engaging experience for seniors.
Listening to and playing music has even been called "a total brain workout" by a John Hopkins otolaryngologist. [6] An active brain is associated with improving memory, mood, sleep, and reduced anxiety. Music is one way to provoke this kind of positive cognitive response.
Integrating Music Into Senior Living
Seniors who are interested in the benefits associated with music can experience a boost in mood and memory through a number of activities. Seniors can listen to new bands or artists, take up lessons on a piano, or join a choir or dance club. All these options will kick-start creativity and activity, with both mental and physical benefits. 
Buena Vida Estates offers a number of musical activities and programs that enhance resident wellness. From classes in Music History, trips to local concerts, and line dancing, there is a way for every resident to experience the benefits of integrating music into their day-to-day life. 
Learn More About Buena Vida Estates
CCRCs provide care at a single location with consistent, familiar staff and healthcare professionals. Contact us to learn more about Buena Vida Estates today. 
References 
[1] https://www.bbc.com/culture/article/20140417-why-does-music-evoke-memories 
[2] https://musicandmemory.org/resources/#power-of-music 
[3] https://www.health.harvard.edu/mind-and-mood/music-can-boost-memory-and-mood 
[4] https://www.ncbi.nlm.nih.gov/pmc/articles/PMC2776393/ 
[5]https://www.healthline.com/health-news/mental-listening-to-music-lifts-or-reinforces-mood-051713 
[6]https://www.hopkinsmedicine.org/health/wellness-and-prevention/keep-your-brain-young-with-music