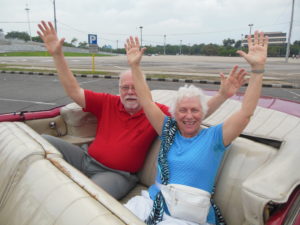 Buena Vida is a slice of paradise – everything you need to live the best life possible is all in one place! Our residents are still as active as ever and love to explore the rest of the world. The Heine's couple is a prime example of this. Their love of travel and desire to experience new cultures led them to Cuba. From delicious food to historical monuments, the Heine's were able to soak in all the unique elements of Cuban culture and bring back many stories to share with us here at Buena Vida.
As if exploring another country was not exciting enough, the Heine family had a surprise guest on their trip – Tropical Storm Alberto! Thankfully they were able to carry out most of their intended plans, but they were careful to never leave their hotel without an umbrella. Most of all, they had no worries about their apartment home at Buena Vida. Some of the historic sights they were able to visit on their trip were churches – Cathedrals and colonial towns and numerous art galleries. They also were able to visit the hotel and room frequented by Ernest Hemingway. They saw his bust in a park on the bay and the fishing village across the bay where he set The Old Man and the Sea. Don Heine stood next to the Hemingway bust with a "remarkable resemblance". Each day in Cuba was filled with new sights and adventure.
In addition to seeing amazing sights, the Heine's were able to experience all the incredible and colorful art that Cuba has to offer. They watched the practice of a local classical ballet company and saw an authentic flamenco production at the theatre also. Their tour led them to explore the homes of many artists and local craftsman, allowing them to soak in the creativity that is a common thread woven into the fabric of Cuban culture. Towards the end of their vacation, they had a guided tour of the Cuban galleries of National Museum of Fine Arts. The tour was brimming with rich facts about Cuba's art history, thanks to their vivacious tour guide. From playing Cuban dominoes in Havana's Chinatown to riding through Revolution Square, their 10-day adventure was just that – a total and wild adventure!
Although the Heine family loved their time in Cuba, there's something special about coming home to a place as wonderful as Buena Vida. While away, they missed their friends and neighbors and upon returning, were excited to share stories and photos from their trip. Buena Vida residents travel all over the world but they all can agree – there's no place like home!