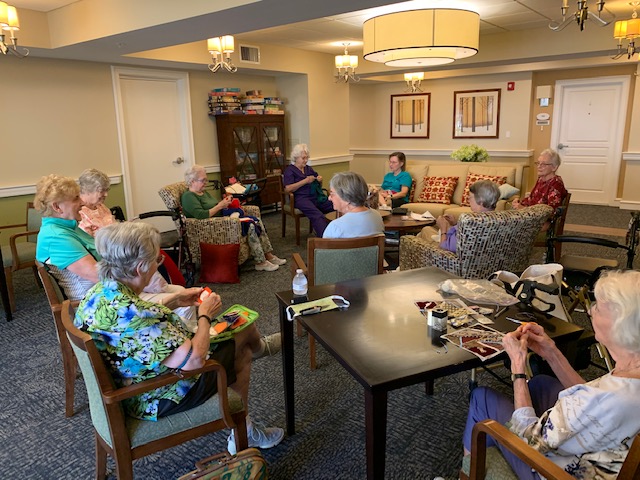 Retirement can be a difficult time, especially if you're used to being busy and active. A lack of engagement at this point in your life may not be wise as it can have significant adverse health impacts.[3]
However, there are several ways to ensure you remain active for good health and happy retirement. One of them is engaging in needle arts. There are several different types of needle arts, including knitting, embroidery, lace making, and quilting. So why are needle arts one of the most popular indoor activities among retired seniors?
Helps You Relax While Keeping You Active
Needle art has a way of keeping you both calm and active at the same time. This is because while it is not physically demanding, like most hobbies, it takes a lot of mental concentration.
As people grow older, they begin to experience changes that may affect their cognitive abilities. Needle art helps keep your focus sharp by improving coordination between your hands and mind, keeping you strong and focused. When your mind is engaged often, you are likely to be more alert and have a better chance to fight off neurodegenerative illnesses like dementia.
Studies have shown that there is a correlation between creativity and emotions.[1] Focusing on a creative idea evokes positive emotions almost immediately, making needle art a good stress reliever. When you focus on art, your blood pressure drops, making you less anxious and depressed. You'd agree that as a senior, anything that can keep you relaxed is significant.
Allows You an Opportunity to Express Yourself
Although hobbies are designed to keep us happy and active, they do more than that. They help us connect with our inner selves to bring out what we feel inside. Art allows us to describe what we cannot through mere words. As a senior, you have had a lot of life experiences over the years. There are memories and feelings that you have locked inside you and that you would like to express. Needle arts provide the best platform to share your life story with others.
By stitching something up into a complex design, you engage yourself in a process that lets your emotions flow, and the final work of art most likely represents what you feel. There is simply no limit to what you can achieve through needle art. In addition, being able to share with others can offer you critical feelings of accomplishment and self-worth.
Is an Effective Tool for Socialization
A big reason for living in a community like Buena Vida Estates is to keep you engaged with a group of peers. Here, you will be in the company of needle artists like yourself who share the passion. It is also an excellent opportunity to learn new skills and teach your own. Such a community of enthusiasts can keep you happier and more optimistic about life. This is because people are naturally social beings who benefit tremendously from interpersonal interactions.
Furthermore, socialization has several health benefits. According to Dr. Craig Sawchuk of the Mayo Clinic, socializing sharpens your cognitive skills, improves memory, and lowers stress levels.[2] Therefore, being in an engaging community can ultimately help provide you with a longer and better quality of life after retirement.
Is an Affordable and Effortless Way to Spend Your Time
Retirement may mean having to live within your means. While you may want to travel and go places, you'll likely find yourself indoors a lot of the time. As an indoor activity, needle art is inexpensive, and the materials you need for it are readily available. This makes it conducive if you are on a tight budget or don't enjoy demanding outdoor activities.
If you enjoy spending your retirement doing needle art or would like to start learning, consider joining the friendly community at Buena Vida Estates. Here, you will find retirees like yourself who are as enthusiastic about life as you are. Feel free to contact us to learn more about our community.
References:
[1] https://journals.plos.org/plosone/article?id=10.1371/journal.pone.0211362
[2] https://newsnetwork.mayoclinic.org/discussion/mayo-clinic-minute-the-benefits-of-being-socially-connected/
[3] https://www.aginglifecarejournal.org/meaningful-enjoyable-and-doable-optimizing-older-adults-activity-engagement-at-home/
[4] https://www.helpguide.org/articles/alzheimers-dementia-aging/preventing-alzheimers-disease.htm#