History
Opening in 1982 as Brevard County's only Continuing Care Retirement Community, Buena Vida Estates quickly became the premier retirement community in the county. It's ideal location, beautiful campus, excellent service, superb amenities, and unique comprehensive health care plan attracts active seniors from around the county. For over 35 years we have provided quality care and excellent services to seniors in our community.
Organization
Buena Vida Estates is registered in the state of Florida as a not-for-profit 501(c) 3 corporation, and is governed by a local board of directors comprised of six prominent individuals from Brevard County. The Florida State Department of Insurance under chapter 651 licenses and regulates Buena Vida to insure compliance with their policies and procedures.
Management
A management company was contracted by the board of directors to direct the daily operations, and professional managers specializing in various disciplines were hired. Those disciplines are General Administration, Nursing and Health Care, Food and Beverage Service, Marketing, Housekeeping and Laundry Services, Maintenance and Security, Activities, and Information Technology. Our strong management team with over eighty years accumulated experience in the hospitality, retirement and health care industries provides compassionate service in a family atmosphere.
Life Care Program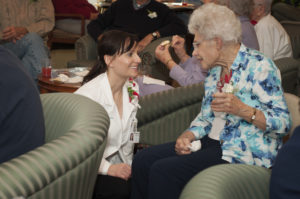 Buena Vida is the only retirement community in Brevard County to offer a Life Care Program. Its Life Care Program is designed to meet current retirement desires in our community, and to meet future health care needs in the assisted living community and/or in the rehabilitation skilled nursing facility adjacent to the campus. This program is much more affordable than, and superior to, many long-term care insurance plans now available. With a Life Care Program our residents get peace-of-mind knowing their assets are protected from rising health care costs.
Campus
Buena Vida's beautiful park-like campus is within minutes of major shopping outlets including two shopping malls. Melbourne Square Mall features stores like Macy's, Dillard's, JCPenney, and other fine shops. Windover Square shopping plaza is anchored by a Publix Food Store.
A variety of entertainment is provided on campus, but residents also have convenient access to local theaters such as The King Center of the Performing Arts and the Henegar Center for the Arts. In addition to the fine dining Buena Vida offers in its on-campus dining room, there are many major restaurants only minutes away. Medical services like MIMA, Osler Medical Services and Omni Medical are just around the corner, as are the Holmes Regional Medical Center and Wuestoff Health Systems. Within an hour of the Buena Vida campus residents can discover the excitement of several major theme parks, an inspiring adventure at the Kennedy Space Center, and the convenience of several cruise ship terminals. Military personnel enjoy the close proximity between the campus and Patrick Air Force Base and the VA clinic in Viera.
Retirement Community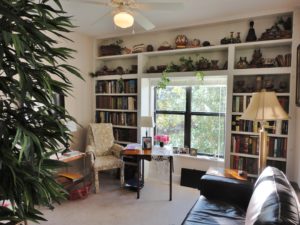 Buena Vida's retirement community has newly-renovated spacious studio, one-bedroom, two-bedroom and two bedroom grand apartments. All apartments have a full kitchen, spacious bathrooms, a screened in porch/patio with enclosed storage area, individual heating and air-conditioning, and wall-to-wall carpet and window treatments. All utilities, including basic cable TV, but excluding your personal phone, are included in your monthly fee. Also included is a one meal per day plan, complimentary continental breakfast, weekly housekeeping, flat linen service, twenty-four hour security, activities, transportation, and use of all of the community's facilities like the library, heated swimming pool, exercise room, activities area, meeting rooms, and card room to name a few.
Assisted Living Community
Buena Vida's assisted living community provides residents with care when they are confronted with physical and health challenges that they are unable to meet on their own. This service provides residents with assistance with personal care, such as bathing and grooming, medication monitoring, assistance with meals, and other care needs.
Rehabilitation Facility
Adjacent to the campus is a state licensed health care facility that provides rehabilitation services, skilled nursing and convalescent services, for all residents.
Buena Vida Estates is a full service Continuing Care Retirement Community offering affordable retirement living in a spacious apartment, on a beautiful campus. The Life Care Program provides a continuum of care when needs arise, and is a very sensible option for seniors looking to protect assets from the uncertain cost of future health care needs.