John Weatherly is from the area of Canterbury, England and considers himself to be "one of the Canterbury Tales." He arrived in Melbourne, Florida 50 years ago when he had the opportunity to work for Harris. He worked for Harris for 9 years and when he finished there he decided to go to Brevard Community College (now Eastern Florida State College) to become certified as an Emergency Medical Technician(EMT).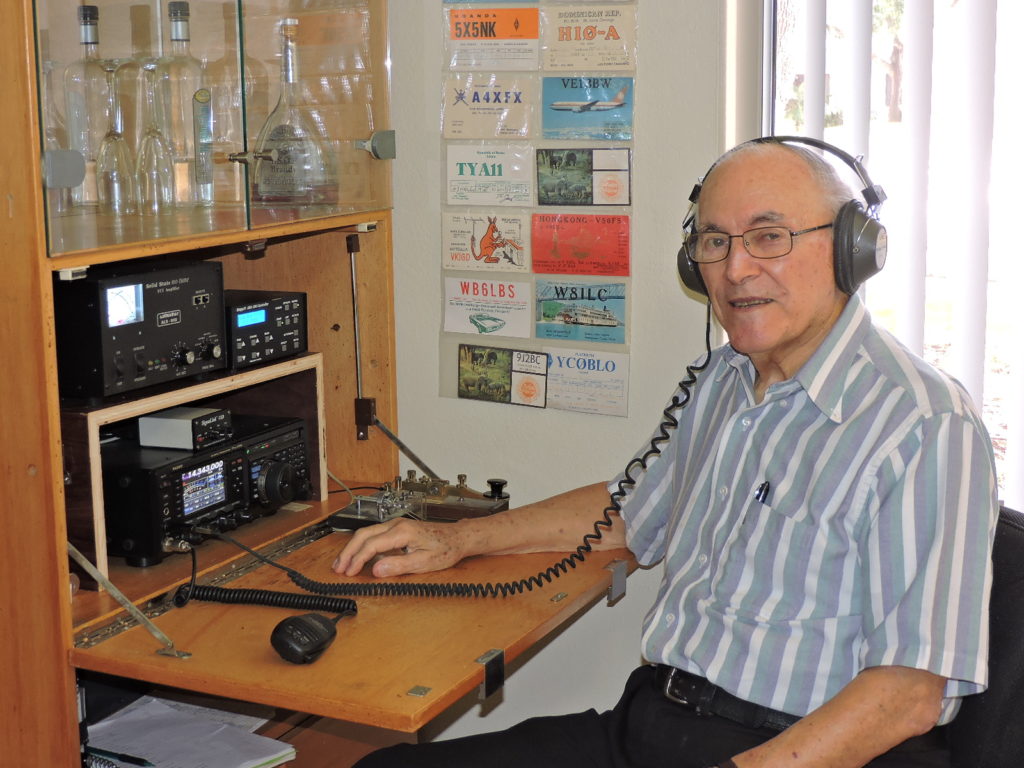 Since arriving at Buena Vida Estates, Mr. Weatherly has joined the Writing Class which is held on Mondays. Mr. Weatherly has hundreds of amazing stories from his days growing up in England during WW II and his days as a Radio and Radar Technician in the Royal Air Force. The best part is he intends to put them all in a novel he is writing! As an assignment for the writing class a Buena Vida, he wrote about his days as an amateur radio operator. Here's an excerpt from that assignment:
"At high school, or the British equivalent, my best friend and I took an interest in all things associated with radio. We found, scrounged and otherwise obtained old radios and parts and at weekends and evenings fabricated one tube receivers, usually tuning the short wave bands. With these basic devices, we tuned in many distant stations from around the world including those from amateur radio operators. Amateur radio gradually became a principal focus since it gave us the future aim of one day joining the ranks of this specialized group and being able to build and operate radio transmitters…
At the tender age of sixteen we both joined the Royal Air Force as apprentice technicians. I chose radio and radar while my friend became a telegrapher specializing in Morse code operation.
With the intensive training we received we both eventually sat and passed the British government exams and obtained our amateur radio licenses.It did not take long for me to construct radio equipment which allowed me to send and receive both voice and Morse code signals and I enthusiastically joined that elite group…
Much later after settling here in Melbourne I was appointed as the Amateur Radio Emergency Services, Emergency Radio Coordinator for South Brevard county which I held for eight years until health conditions intervened. During this time I was involved with most of the area emergencies including most of the hurricanes, missing person searches, the major Palm Bay brush fires and the Harbor Cay disaster in Cocoa Beach. I also led communications teams to Homestead, Port Charlotte and Ft. Lauderdale following hurricanes Andrew, Charley and Wilma.
Amateur radio was the spark that lit the fire which led me to becoming a communications engineer for more than fifty years."
On a daily basis, Mr. Weatherly still attempts to contact friends from across the globe using his radio and on the day of this interview he was able to get through to Canada and England!