When we talk about Living the Good Life at Buena Vida that's something resident Christina O'Shea will attest she is actively doing. Christina was born in 1923 in England. Her parents moved the family to New York City when she was young. Her NYC neighborhood was so diverse, because no one was native to America at that time. She was the baby of the family, that is until her mother gave birth to son, Terence (who you'll meet in a future Featured Resident article).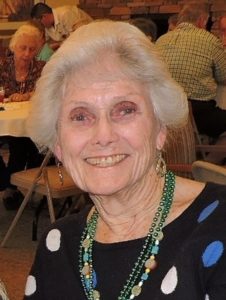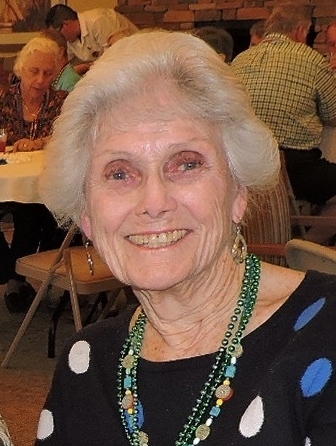 Christina met her husband Jeremiah when he was in the service. "He was in uniform, and I thought he was a god," she said. They married in 1944 and within two weeks he was sent overseas to war. During this time Christina got a job with the Sperry Gyroscope Company in Brooklyn. She described herself as "Rosie the Riveter with a typewriter".  The Sperry position afforded her the opportunity to attend college at night on the company's dime, so Christina studied accounting and got an Associate's Degree.
Her husband safely returned from the war to find there were no apartments in the City so the couple, along with many other immigrants in the area, moved to the outskirts to new homes being built for soldiers returning from overseas. The preconstruction homes were selling for $6,000 – can you believe that?
Ultimately Christina and her husband settled in Ridgewood, New Jersey where they started their family of five children – a boy and four girls. The kids attended Catholic school and Christina continued her work in accounting for Public National Bank and Trust.
The family moved again to Hillsborough Township near Princeton where Christina was active with the Board of Health and became a voice against socialized medicine. She became friendly with folks in the municipal arena and was offered a position as the Welfare Director.
Her husband retired, the kids were grown, and the couple moved to a condo in Indian Harbour Beach in 1983. Jeremiah passed away after 61 years of marriage. Christina's daughter Eileen introduced her to Buena Vida, and the "rest is history" as they say. Her brother Terry soon joined her at Buena Vida and the two get together often.
Christina loves to travel – she's crisscrossed the country three times by her estimation. She visits her children and grandchildren, and great-grandchildren as often as she can (especially when they send her a ticket!) But she loves to come home to Buena Vida – when she's home she is enjoying all the amenities like the frequent gym classes, the thrift shop, movies on the campus, and she loves how close she is to everything living at Buena Vida.
"The entertainment is great, the variety is excellent, and you can't beat the service," she said. "We are treated so well from the moment you move in. And when you come home you're greeted at the door like family."
Christina will celebrate her 96th birthday in January and couldn't think of a happier place to celebrate than at Buena Vida with her family and friends.