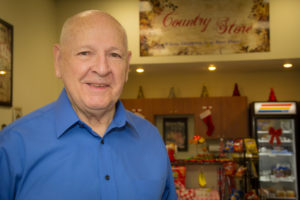 Bob Lindner has been a resident of Buena Vida Estates for nearly 4 & ½ years and was asked nearly 2 years ago if he would mind running the Country Store. Bob, who has never done retail before, went in with a "can do" attitude, took his best shot and made significant progress in the store. As he was given the tour of the store and taught how to purchase new inventory, he saw that there was no way of tracking inventory. The only time they knew they needed to order more of an item is when they noticed the shelves were almost empty. After doing it the way he was taught for a while, he figured there has got to be a better way.
When Bob shared the information with the other residents, they offered to donate money to buy a Point of Sale (POS) System. Bob knew nothing about POS systems, but he was willing to learn all he could about them. He did all the research he needed and narrowed it down that the system he needed costs about $2,000. He almost couldn't believe that something that was going to make life for him and the other volunteers at the store so much easier was only $2,000! Once approved by the board and council, he was set up with the system  and the people he bought it from told him to go to the website and see how it functioned. He soon found out that there was A LOT of information he would need to learn and then teach the other volunteers.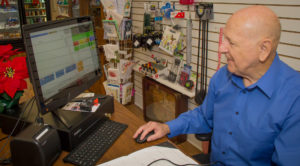 Bob was determined, so he sat and studied until he got it right. He then allocated time to train each one of the volunteers. With time and patience, Bob was able to show all the volunteers that they too can learn new things and now they all confidently use the new system. Now he's able to pull up all the departments and see how much inventory he needs to purchase. The system has only been established since the beginning of the summer, but it has already made a huge impact on the way the Country Store is run and showed all those involved that with some time (and the right teacher) they can learn new things!
When asking him about his experience at Buena Vida, Bob said "I fell in love with the place. I enjoy socializing with the many different personalities at Buena Vida. I get to talk to people who were in the military, doctors, dentists, and vets. Debbie (the activity coordinator) is a gem for all the activities she brings in. We have live music varying from Bluegrass to Classical. We have line dancing, exercise classes, watercolor painting, and parties for the different holidays. To me, coming here gave me a brand new family where everyone is willing to help!"