While sailing the world with my husband Jim on our sailboat, with just us and our cat as crew, I was introduced to watercolor painting while in Europe. A sailing friend gave me some watercolor paints, a Dutch painter familiarized me with proper paint brushes, and an Italian painter made sure I used the proper watercolor paper. It was fun going to the oldest art supply store in Florence, Italy and purchasing watercolor paper from the same manufacturer that the famous painter Michael Angelo used.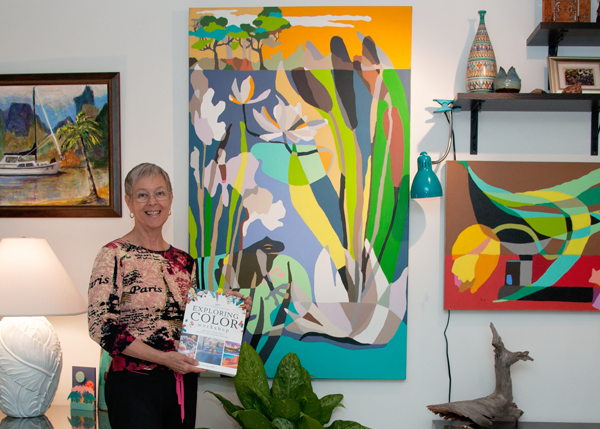 We returned to our home port of Pascagoula, Mississippi, after logging 75,000 sea miles, and circumnavigating the globe in our boat almost two times in 2000. It was the perfect time in my life to pursue my passion for creating visual art in the form of painting. I had won an art scholarship to Cleveland Institute of Art when I was younger but my parents didn't allow me to follow my natural talent. I had graduated with a degree in interior design from college and had a thriving business before flipping a coin and becoming a 'sea gypsy'.
I started my new art career by illustrating two children's books for published authors that went National. I also had my artwork sold at the Beau Rivage Casino in their boutique stores and had my art at several art galleries. I didn't have a set style that many professional artists have, but kept changing style and things to paint with. That was when I pulled out of the art galleries, and asked God how he wanted me to paint. That is when he developed my special 'no signature required' style that many artists ask me to teach them- but I can't because it is God given!
My work is crisp, clean, modern and combines with math. On this journey of art making, I have been introduced to Fibonacci Leonardo Pisano Bigollo, the 13 C. Italian mathematician who unraveled the perfect ratio that all things created have in common. Be it the formation of the 250 billion galaxies, human beings, plants or animals: everything formed during creation is based on God's Divine Proportion of 1:1.618 or Phi. This is the math formula I use. Currently, some of my work is featured in Exploring Color Workshop: 30th Anniversary Edition.
Being an interior designer, ASID, in my earlier years, I am used to seeing shapes, space, allocations, colors and movement. Now I am using what comes naturally to me to by creating flat pattern designs- where each shape is based on the mathematical ratio of another shape,while the colors dance to their own tempo.
This style of painting is a rather lengthy, complicated process involving both the left brain which is used for math logic, and the creative right brain which allows the colors and shapes to dance. I create out of my head instead of painting what is in front of me. The shapes themselves are the most important, and I am considered a hard-edge painter, because the shapes to remain true to their mathematical ratios.
Since joining the Buena Vida community, I feel like I'm living on a cruise ship without getting sick. I still cook and enjoy the activities like dancing and exercising, but most of all I love how it feels like home.
I love to do one-of-a-kind commission work for commercial jobs and private individuals. If you wish to see more of my art please come visit my website: www.sandylford.com