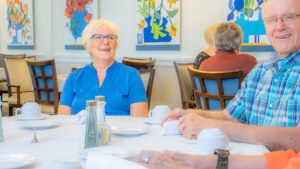 At our Continuing Care Retirement Community (CCRC), we believe that exceptional dining experiences are an integral part of our residents' overall well-being and enjoyment of life. 
Unlike other senior living options, our residents are able to enjoy complimentary daily "Continental Plus" breakfast and a choice of daily chef-prepared lunch or dinner. Buena Vida Estates also encourages residents to bring containers to the dining room, so they can take home any food they're not able to finish.
We take pride in offering a wide variety of dining options, diverse menus, and culinary excellence that elevate the quality of life for our residents.
Diverse Dining Venues
At Buena Vida Estates, you'll discover a variety of dining venues to suit your mood and preferences. From elegant dining rooms for special occasions to on-site pub for lighter fare, we've created spaces that cater to your every need. Whether you're seeking a fine dining experience or a relaxed meal with friends, you'll find it all under our roof.
Healthy Menus
Our culinary team, overseen by Executive Chef and Food Services Director, John Delaney, is dedicated to crafting inspired menus that not only excite your taste buds but also nourish your body. We believe that great food is an essential part of a fulfilling life, and our menus reflect that philosophy. All of the meals at Buena Vida Estates have been approved by a dietician and are prepared in-house.
Customization and Choice
We understand that dietary preferences and requirements vary from person to person. That's why we offer a range of menu options that accommodate various dietary needs. Beef, poultry, and fish are always on the menu and vegetarian dishes are available as well. Residents have the freedom to customize their meals and enjoy dishes that align with their tastes and health goals.
Community and Connection
Our dining venues are not just places to eat – they are places to gather, socialize, and build meaningful connections. Sharing a meal with friends, engaging in conversations, and forming lasting friendships are all part of the dining experience at our CCRC.
Add Flavor to Your Retirement Years with CCRC Dining Options
Buena Vida Estates takes immense pride in offering diverse dining options, inspired menus, and culinary excellence that add flavor to your retirement years. We are committed to ensuring that every meal you enjoy with us is a taste of joy, comfort, and connection. Come savor the culinary delights of CCRC living with us and discover a world of flavors that make each day a delicious adventure.
Learn more about our dining experience at Buena Vida Estates.