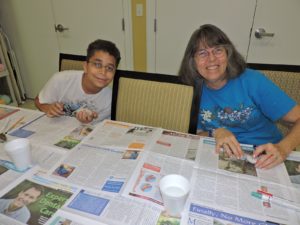 At Buena Vida Estates, we believe our residents' spirits are young and full of creativity. In order to promote this creativity, bring together our residents here at Buena Vida, and to create a greater understanding between the generations, Buena Vida Estates reached out to the West Melbourne Police Athletic League (PAL) and hosted an event with them.
PAL is an organization that teams up police officers with local youths to take part in educational, recreational and athletic activities, in order to promote trust and understanding.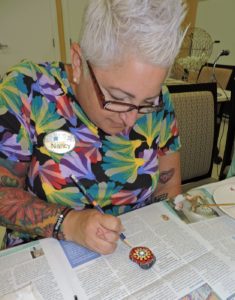 The event took place on Tuesday, August 1st at 10 AM in the Buena Vida Estates activities room, and consisted of a few hours of art and a lot of fun! Leslee Brimer, lead PAL organizer, and Detective Evelyn Moyer from the West Melbourne Police Department, brought the kids from PAL to paint rocks with some of our Buena Vida residents.
With supplies provided by Buena Vida, the kids, together with our residents, painted the rocks, each adding their own touch of unique creativity, even adding PAL and Buena Vida Estates stickers to their creations. The decorated rocks were then distributed around West Melbourne and around Buena Vida Estates to showcase the creativity of the Buena Vida residents and the kids from PAL.
Good Feelings All Around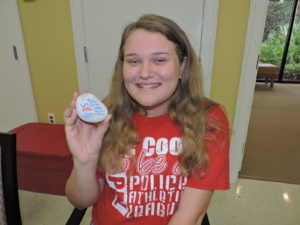 Buena Vida Estates often reaches out to non-profit organizations, and the West Melbourne Police Athletic League are no strangers to us. We are affiliated with PAL through the West Melbourne Business Association.
We have reached out to West Melbourne PAL because we believe the act of creating something together promotes a greater bond between our residents of Buena Vida, with the youths involved in PAL, and with our community. The rock painting event evoked the creative energy that our residents have, as well as helped bridge the generational gap between the youths and the residents.
Alongside our monthly meetings that take place at Buena Vida Estates, we plan to host more fun events in the future in order to spread fun, kindness, and understanding between our residents and the community. Buena Vida plans to once again host PAL for a Halloween party in October, where the kids will visit dressed in their costumes and have a dance party with the residents! We are also planning to host a Christmas event at the end of the year.
Buena Vida Estates enjoyed the rock painting event with West Melbourne PAL, and we are looking forward to the next event that we will be hosting!