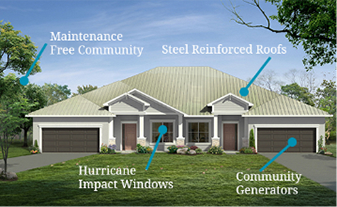 The Good Life in the Buena Vida Estates Cottages: Set Aside Your Weather Worries
We love living in Florida because the weather is usually quite lovely with sunny skies and ocean breezes. However, once in a while we find ourselves in the path of a hurricane. If you are living on your own, this can be an especially stressful time spent worrying about power outages and wind and water damage to your home. This can also be a source of concern by your loved ones who may be far away and unable to reach you in time to lend a hand.
However, there is a way to enjoy the pleasure of living in your own home in central Florida without worrying about hurricane preparedness. As a highly independent senior residing at the Cottages at Buena Vida Estates, you can enjoy all the benefits of living in the Sunshine State without the hassle of hurricane prep and cleanup. More importantly, you and your loved ones need not fear danger or damage to your house from a major storm blowing in from the Atlantic.
The Cottages at Buena Vida are built to the highest hurricane safety standards, so you can ride out a storm in comfort and safety. With so many hurricane preparedness features built into the cottages, you won't need to worry about the security of your residence or yourself as a homeowner. Here are a number of features to give you peace of mind that your home is hurricane-ready.
1. Steel-Reinforced Roofs Safeguard You and Your Home
One of the key aspects of hurricane safety is keeping the roof over your head intact. Hurricane-force winds, up to 160 mph, can damage and even tear off a shingled roof.[1] The steel-reinforced metal roofs topping our cottages are designed to withstand hurricane-force winds as well as impacts from falling trees or flying debris. You and your home will stay safe and dry no matter what Mother Nature brings to town.
2. Hurricane-Impact Windows Hold the Storm at Bay
The cottages' large windows let the glorious Florida sunshine in, but that does not mean you have to worry about their strength during a major storm event. Hurricane-impact windows, constructed to withstand high winds as well as strikes from flying debris, are installed throughout the cottages. You can therefore rest assured that you will not end up with glass or leaves scattered throughout your home, not to mention the water damage that could occur with windows that do not meet hurricane-ready building codes.
3. Community Generator Keeps the Lights On
In major hurricanes, the power grid always goes out somewhere. More than a mere nuisance, a no-power situation can become life-threatening if you rely on refrigeration for medications, power for a medical device or even the air conditioner on a very hot, humid day. Fortunately at Buena Vida Estates, the Cottages are connected to a permanent diesel-powered community generator. So, even if the power goes out in town, you will still have lights, refrigeration, telephone and air conditioning.
Having access to this reliable source of electricity means that you will never need to fear spending the whole evening in the dark. You'll also never need to fear losing communications while waiting for the storm to pass. Our generators can fully put your mind at ease.
4. Helping Hands Are at the Ready
Our incredible Buena Vida staff can provide assistance both before and after a storm. If a hurricane is forecast for our area, we can help bring in lawn or porch furniture and secure any outdoor items so they do not become lost or damaged. After the storm has passed, our dedicated lawn care team will get your property back into pre-storm condition. This way, you can quickly get back to enjoying the peace and quiet on your porch, strolling along the neighborhood walkways around the lake or getting back to the bocce court.
Safety is of primary importance at Buena Vida Estates, and we strive for hurricane preparedness at all times. Because the new Cottages at Buena Vida are built to high hurricane safety standards, owning one of these exclusive new homes will give you, and your loved ones, peace of mind all year-round.
Contact us today to learn more about the beautiful, private and hurricane-ready Cottages at Buena Vida. If you'd like, you can also schedule a tour of our lovely future homes and grounds. We love showing Buena Vida Estates to future residents! 
References:
[1] http://www.floridabuilding.org/fbc/commission/FBC_1205/Education_POC/Residential_Roofing_and_Hurricanes/0-MATERIALS-Residential_Roofing_Materials.pdf