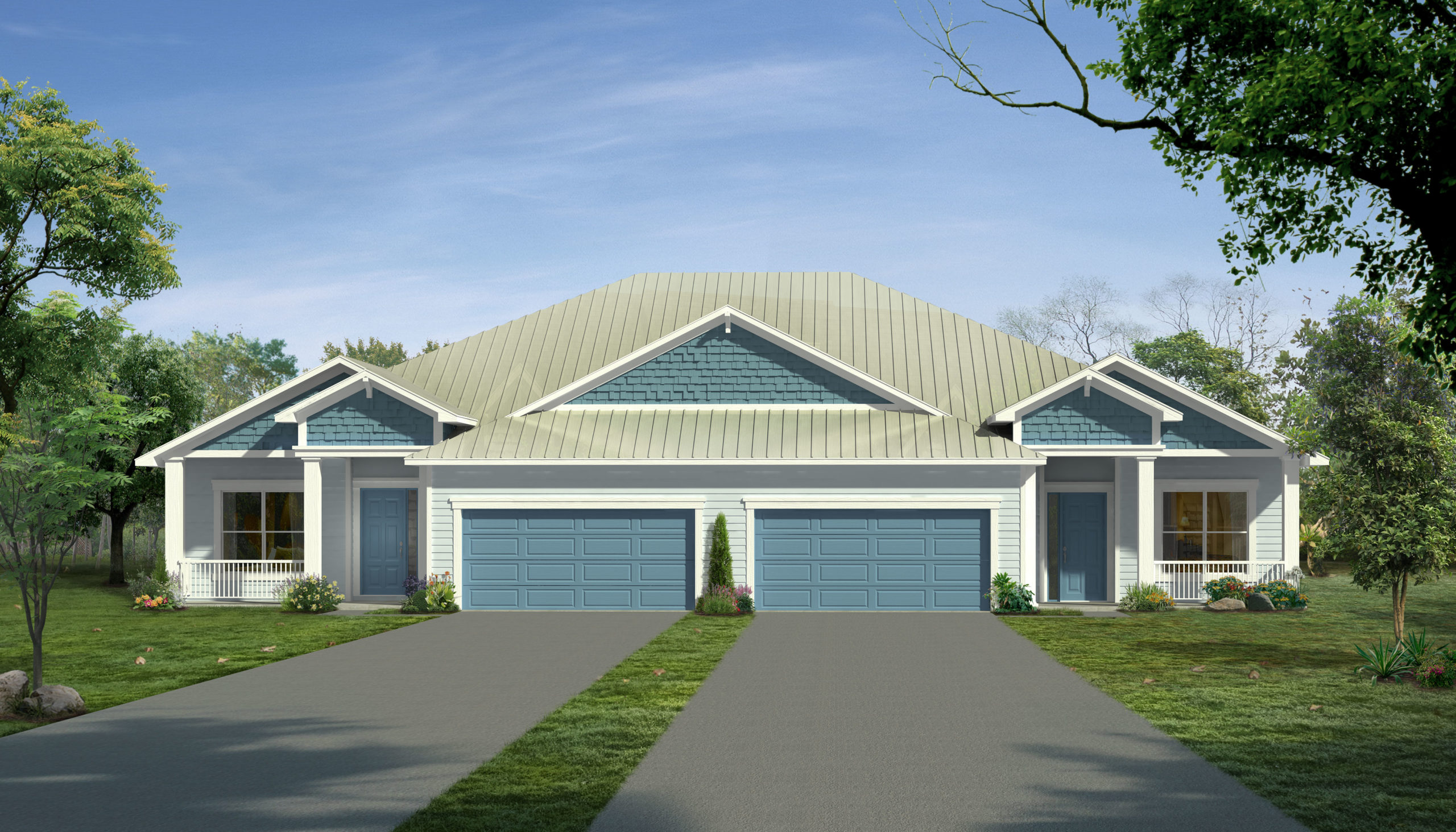 What to Expect When You Move Into Our Cottages
At Buena Vida Estates, we pride ourselves on offering seniors independence and convenience. An exciting new option for residents is The Cottages at Buena Vida. These exclusive homes allow you to live a luxurious and extremely independent lifestyle. If the idea of relaxing in a private, wooded community sounds great to you, learn more about our brand-new cottages.
Enjoy a Spacious, Welcoming Home
As soon as you walk into a Cottage, you are met by a peaceful, open look. A spacious foyer travels from the front door to a combined great room and kitchen area. Several large windows allow natural light to flow in while a pale color scheme and 10-foot ceilings make the whole home look airy and bright. The kitchen is fitted with all the latest conveniences, including stainless-steel appliances and plenty of cabinet space. A large island between the kitchen and dining room area is perfect for entertaining.
Each cottage is a duplex that contains two homes with a two-bedroom and two-bath design. The spacious master bedroom has a bath attached. With his-and-hers sinks and a walk-in, handicap-accessible shower, the master bath is designed to meet all your needs. Traveling through the bath leads to a walk-in closet, filled with shelving for all your clothing.
In addition to the master bedroom, there is also a second bedroom you can use for a guest, roommate, or friend. The second bathroom is conveniently situated near the living room, making it easily accessible for guests. If you need a little extra space, our cottages also have a den with pocket doors can use it to get a little work done, explore a new hobby, or just relax in peace. Each cottage also has a two-car garage.
Soak Up Florida Sunshine
The cottages of Buena Vida are designed with nature lovers in mind. The Cottage community is set in an exclusive wooded community. The duplexes are arranged around a peaceful lake and shaded by lovely, mature pines and oaks.[1] With lawn upkeep included in your package, you get to appreciate our landscape without the hassle of handling it yourself.
The Cottages and the entire community make it easy to enjoy Florida's warm temperatures and gentle breezes. Across the back of your home stretches a covered porch where you can sit and listen to the birds sing and watch the wind blow through the trees. Pedestrian walkways let you stay in shape as you explore the natural beauty around your home.
The entire neighborhood around the cottages is designed for fun in the sun. Bocce ball and pickleball courts let you get in touch with your competitive side. If you prefer calmer outdoor activities, we have a pool to swim in as well. Part of our clubhouse includes a deck over the lake, so you can relax by the water. The neighborhood clubhouse is home to game nights, educational seminars, community parties, and club meetings. You always have the option of making friends with new neighbors or enjoying a bit of peace and solitude.
Our Cottages Are Built to Last
We love the sunny weather and warm temperatures of Florida, but sadly, being a Florida resident also means you are more likely to encounter hurricanes. Our Cottages are built to meet or exceed all the latest hurricane safety standards. If a hurricane comes our way, you do not need to spend a lot of time stressing over your home.
The steel-reinforced roofs can stand up to high winds, falling trees, or other impacts. Every one of the large windows in the home is hurricane-rated as well. If the wind picks up debris, you will not need to deal with shattered glass or rain pouring inside.[3] Finally, each one of our cottages is hooked up to the community network of generators. In case of a power outage, you can still get the electricity you need to stay comfortable and happy until utilities are repaired.
Get All the Perks of Independent Living
The Cottages at Buena Vida provide our most independent experience yet. The Cottages are ideal for extremely independent seniors who want to be in control of their own home.[1]
You set your own schedule, cook your own meals, and decorate your home to your personal tastes, as well as garden or tinker in the garage! This makes it easy to keep living the life you love. The privacy and freedom to make your own choices ensure you get the most out of your golden years.
We Provide Care When You Need It
The Cottages of Buena Vida are part of our signature Continuing Care Retirement Community (CCRC). We work with our residents to ensure their health and wellness needs are met. While enjoying the exclusive privacy offered by the Cottages, you can still access our Physicians Clinic & Wellness Resource Center whenever you need it.
If your health requires, we can arrange physical therapy, home health care, and other care management services. As your health needs change, we change with you. You can get as much or as little assistance as you need. In our community, we cater to residents with a wide spectrum of needs.
If all these services and amenities appeal to you, The Cottages at Buena Vida may be your dream home! The Cottages are being reserved and selections for interior finishes chosen, so you need to act quickly. Call (321) 312-4495 or fill out our contact form to learn more about our exclusive new neighborhood.  Opening and occupied Summer 2021.
References:
[1] https://www.buenavidaestates.org/cottages/