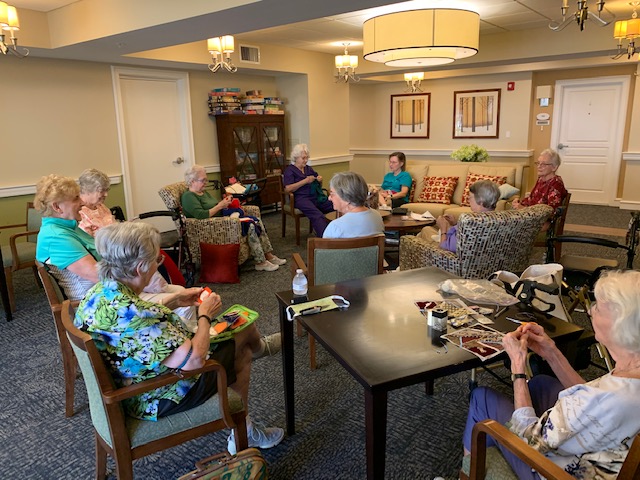 Many seniors have touted continuing care community benefits. Some have even described entering a continuing care retirement community as one of the best decisions of their lives. When you live in a CCRC, you enjoy the opportunity for better health, happiness, and peace of mind as you age.
Senior Living Advantages
One of the main goals of CCRCs like Buena Vida Estates is to provide a full continuum of care for residents so that they can live independently and receive the necessary assistance as their needs change. These needs include assisted living environments, skilled nursing care, and memory care.
At a CCRC, senior living tends to offer more emotional, physical, social, intellectual, and vocational wellness to its residents. Residents often display healthier behaviors than other seniors in nursing homes or those living alone. This can be attributed to proper exercise, diet, and healthy lifestyle choices.
Seniors who live in CCRCs have higher life satisfaction. They experience less stress through a more positive perception of aging. They enjoy a more active life with an enhanced circle of friends and a greater freedom of movement. This is the result of a higher perceived control over their lives, which occurs even more so than with people living on their own.
The Financial Impact of CCRC Entry Fees
Even with all the benefits of CCRCs, some people are still concerned about their financial security and the entry fee charges. A CCRC usually has an entry fee to allow the community to provide the various services and amenities. It is also a source of long-term protection to ensure the sustainability of the community for many years.
This entry-fee model evolved from a concept that dates back over a century. In this fee structure, seniors would donate their assets to a charitable organization or a church, and in turn, receive housing and health care benefits for the rest of their lives
The model has evolved over the years as life expectancy rates have gone up and health care costs have risen. Some seniors still opt to sell their original homes and use the proceeds of the sale to pay for the entrance fee.
As an actuarial and pricing expert for CCRC explains, the earlier model is not common today since more seniors have amassed the necessary wealth to pay for the entrance fee.[1] Some CCRCs are coming up with a fee structure that better reflects expected costs to address the equity challenges of the earlier model. New models consist of monthly and entry fees that vary by unit and number of entrants.[1]
Nowadays, many CCRCs are offering a variety of entry fee refund option choices for consumers.[2] They include a refundable entry fee where a sizable portion of the entry fee is refunded to the resident, their next of kin, or their estate.
The current pay-as-you-go model, where a resident's entry fee refund is not paid until a new fee from a future resident is received, also has its flaws. All entry fees should be determined in a way that they are adequate to meet future obligations to the residents when added to monthly fees regardless of the contract.
Some seniors may be discouraged by the CCRC entry fees. However, the entry fee has an advantage since it is applied toward the monthly fees.
This means paying an entry fee will provide a lower monthly fee price, especially in a life care contract. It also allows seniors to pay in advance, either in part or full, for their long-term care actuarial risks. Thus, the entry fee serves to create a more affordable contract in the end.
Some CCRC contracts stipulate that the refund fee not be paid until someone else moves into the community.[1] In this case, the refund risk is placed on the consumer. This may raise some concerns to the consumers and lower their confidence in how and when they will receive their refunds. The CCRC provider may not pay until the unit is sold since they use the funds until the refund is due.
 The various refundable and non-refundable contracts offered by a CCRC may mean the CCRC could face a shortage of funds if the unit is sold to a non-refundable contract. Consumers should understand the wording in the contract to be fully aware of the terms of the refund.
A CCRC can legally execute a contingent provision that lowers the obligation and timing of when the refund might be paid. This is usually clearly stated in the contract. The issue is whether it is an acceptable policy for the resident.
Senior Living of the Future
There are many continuing care benefits, and a few changes and improvements will ensure that the industry thrives in the future. More CCRCs are innovating through technology and design. They are discovering more ways to deliver the model to the middle market. The future opportunity is optimistic and expansive. Instilling confidence in the financial methodology will make more seniors comfortable with CCRC fees. 
Buena Vida Estates is a CCRC committed to providing a resort-like retirement lifestyle with access to a full continuum of care. We offer independent living in a community with various options to meet your needs even as they change. Contact us for information about our services and programs.
References: 
https://www.mylifesite.net/blog/post/actuarial-perspective-ccrc-financial-viability/ 
https://seniorhousingnews.com/2012/11/26/offering-options-for-ccrc-entrance-fee- refunds-savvy-or-not-so-much/