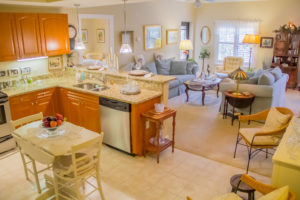 Buena Vida offers a variety of floor plans for residents to call home. Each apartment floor plan has unique aspects and qualities to meet residents' needs. There are 9 different styles of units to choose from. Many units have 2 bedrooms and 2 bathrooms and some even have a den for you to have a space to get some work done or have a space for your hobbies.
When looking at the layouts of each of the 9 units, you will see that we even show you where the television cables, electrical outlets, telephone outlets, and the wireless emergency call systems are because we want you to be able to envision how you and your things can fit perfectly into each unit.  We want our residents to love their homes and that's why we give them such a variety to choose from. Don't need 2 bedrooms? Prefer more of a studio apartment? Buena Vida can help!
Check out the video of the beautiful Buena Vida campus below! You'll be able to get a little taste of the styles of apartments we offer, see the luscious landscaping, see how some of our residents have decorated their homes, and see some of the many amenities we offer. Our Continuing Care Retirement Community offers residents stress-free and maintenance-free living, so they can enjoy all of the activities and friendships our community offers.
Visit our Apartments webpage to view the photo gallery and floor plans .