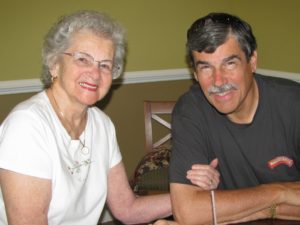 Coming to the realization that your parents may no longer be capable of adequately caring for themselves can be an extremely stressful experience for adult children. These are the people you've relied on your entire life, the rocks who you turned to for help, not the other way around. This difficult experience is shared by many people, and if you're not entirely sure how to go about addressing the situation, rest assured you're not alone.
Warning Signs
Potential warning signs that your loved one's status may have changed so they need more assistance and may no longer be able to live totally independently include:
Weight loss, loss of appetite or skipped meals
Neglected personal hygiene including teeth, hands and feet
Behavioral changes including becoming agitated, paranoid or anxious
Changes in daily patterns or behavior as expressed by friends or neighbors
Frequent mishaps including bruises, burns and abrasions which can indicate forgetfulness, carelessness or physical weakness
Changes in social habits
Signs of forgetfulness or disorientation including piling up mail or bills, missed appointments or unfilled prescriptions
Approaching the Subject
Having a talk with your parents about their ability to take care of themselves might not be pleasant, but can certainly be necessary. You know your parents, and even the most reasonable may be reluctant to give up their independence.
Although the conversation may be a bit difficult, it is preferable to constantly worrying about them or avoiding the conversation and risking their health and safety. How you approach the conversation may make all the difference. Making sure their opinions and feelings on the matter are heard and acknowledged may make the process a bit easier for everyone involved. You should help them explore their options to determine the best living situation for them and offer to help as much as you can.
Accepting help and acknowledging the fact that they may need it can be very difficult. Your parents may have lived in the same house for a long time – they've celebrated a lot of birthdays, holidays, victories and defeats in those walls, and leaving all those memories behind is not easy.
There's also the matter of pride. No one wants to admit they can't adequately care for themselves, regardless of their age. Helping your parent realize this in gentle terms that don't demean them, but instead help them appreciate the situation and how it makes you feel as someone who loves them may help them more easily accept the need for a change in living arrangements.
If you're still working on convincing your parents they need a bit of extra help but you want to take some proactive steps now to ensure they're living as safely as possible, consider implementing the following preparations.
Medical Records
Keep current medical records for your parents all in one place. These records should be on hand for all doctor's visits or emergency situations and should include:
Summary of past surgeries, illnesses, tests and hospitalizations
Current medical conditions and medications, including prescribing physicians
Health insurance cards and other insurance information
Support Network
Establish a local support network, even if your parents are in good health. Make a list of all their friends, neighbors and family members and decide who should be in charge as their caregiver if you should not be available. Post these in your parents' home near their telephone and leave a copy of their house keys and important information with a trusted neighbor or nearby friend in case of emergency.
Affairs in Order
One important but sensitive subject is to make sure your parents have an updated and valid will or trust, including a power of attorney and advanced directives. You should know where these documents are located in case of emergency or a situation where your loved one is no longer capable of communicating the location of these items to you.
Retirement Communities
Be sure to respect your parents' feelings about living independently and be prepared to let them make their own life choices. If their health or safety is at risk, you may need to intervene and make the best decision for them yourself.
Many older adults in Florida enjoy living in an independent living community such as Buena Vida Estates which allows them to maintain a significant degree of independence while also the peace-of-mind of a continuing care retirement community.  The benefits from access to others in their age group and a staff of compassionate professionals tasked with ensuring their needs are being met for the rest of their lives.
Contact Buena Vida Estates (321) 351-3082 today to schedule your FREE tour.