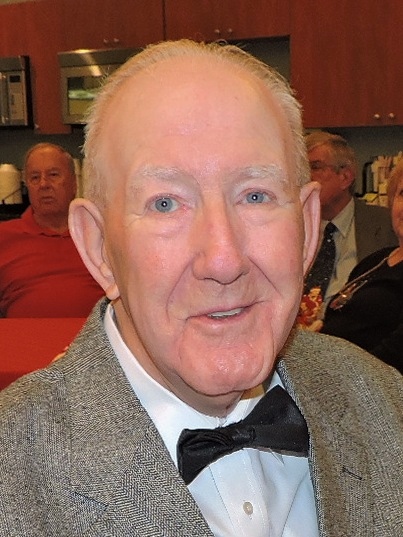 Larry Payne has been a resident of Buena Vida Estates for the past 6 years. Since moving to Buena Vida Estates he has become a regular in some of our community's activities such as Bocce Ball and he has even joined a weekly exercise program that meets every Monday, Wednesday, and Friday. Here's a little about Larry's past and how he came to join the Buena Vida family.
Larry was born in Warrington, Virginia on July 13th, 1932. The small town he grew up in only had a population of about 6,000 people. Though it was a small town, it was a great place to grow up. Some of the best memories he has are of the circuses coming to town and the shows they put on with the elephants.
Larry's father was in the Navy and when his father finished his tour he was able to find a job at the Navy Medical Center in Rockville, Maryland. Larry and his family moved to the Rockville area and Larry graduated from Richard Montgomery High School. Larry actually received a scholarship to attend Montgomery Junior College and after attending for one year he felt an obligation to his country to enlist in the Air Force during the Korean War.
Larry entered basic training in Sampson Air Force Base in New York. During basic training, Larry would spend his free weekends in Rochester, NY where he met his first wife Marjory. While at Sampson Air Force Base, a recruiter was looking for people with a high aptitude for languages. Larry took a test and it turned out he was just what they were looking for.
Larry was shipped off to Yale with Marjory in tow and started to study Chinese. He completed the language program and was sent to the Far East. He first went to Japan, spent 90 days on aircraft carriers, shipped to the Philippines, then Taiwan, then back to the Philippines. While he was finishing up his 18 month tour, he decided he was going to re-enlist.
Larry was assigned to learn Russian at Syracuse. After this program, he spent plenty of time working for the National Security Administration in Okinawa Air Force Base in Japan and Marjory accompanied him. After 16 years married, Marjory passed away. Larry spent his final tour in Okinawa and brought his 4 children.
When Larry came back to the states, he bought a house near Annapolis, Maryland and he became a homebody. Larry's aunt suggested that he get out more and he eventually agreed to listen to her advice and joined a support group called Parents Without Partners. While attending these meetings he met a very nice and attractive woman named Barbara. While dating Barbara, he applied to the Department of Mental Health & Hygiene and became a Director. He eventually asked Barbara to marry him and they joined their 2 families.
As they grew older, Barbara started to have health problems and wanted warmer climates. Since all of the kids were out of the house, they made the decision to build a house in Viera, Florida where they lived for 8 years. While working for the Department of Mental Health & Hygiene, Larry became well acquainted with Continuing Care Retirement Communities (CCRCs) and knew it was the future for them.
Larry did his due diligence and found Buena Vida Estates. He and Barbara moved to Buena Vida 6 years ago and made many memories together here. Barbara passed just over a year ago, but Larry says the people here at Buena Vida Estates have wrapped him in their arms and took care of him.
Larry is enjoying the GoodLife here at Buena Vida and we are happy to have him as part of our family!