This Friday, August 25 2017, Buena Vida Estates will be turning 35! 35 years is no small accomplishment, which is why we are so excited to announce our 35th Anniversary Celebration that will be taking place this Friday evening on August 25th. It will be an evening of good food, drinks, and a lot of fun for the Buena Vida family to celebrate this amazing milestone!
Being around for 35 years, we have come quite a long way from when we first started. As currently the only Continuing Care Retirement Community in Brevard County, we are proud to be able to provide a constantly-expanding range of care services for the well-being of our residents. In addition to resort-style accommodations, Buena Vida Estates also has a gym for fitness and exercise programs, a non-denominational Chapel available for all faiths, outdoor activities, and a range of classes so our residents can continue doing what they love, or even try something new. We also have onsite medical care, including a walk-in clinic that provides Flu, Shingles and Pneumovax vaccinations, giving our residents the option of receiving medical care from within the community they live in. These revolutionary services and activities have all contributed to our long term success, allowing us to celebrate this 35th anniversary!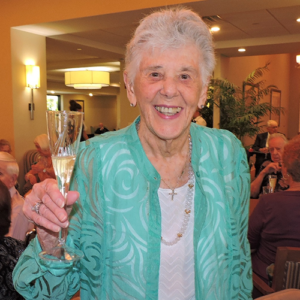 Here at Buena Vida Estates, we are definitely not strangers to growth and expansion. In October 2009, Buena Vida Estates completed a large expansion which nearly doubled the size of our community! This expansion included adding 27 apartment homes, 32 private assisted living apartments, 16 specialized memory care apartments, and a health center directed by a physician, called The Sullivan Health Center. We also added a charming Main Street area, along with a variety of resort-style amenities including a game room with a dance floor, bistro cocktail lounge, a library and computer lab, and a full service hair salon.
Karin Lautenschlager, Executive Director of Buena Vida, proudly notes "because we are a not-for-profit organization the money goes back into the community enabling Buena Vida to stay fresh and modern." This ensures that our residents get constantly expanding health care options and new activities and amenities. After a life of hard work, we want our residents to have the best options available to them so they can fully enjoy their golden years!
We also expect further growth in the near future because as our Director of Marketing, Doreen Boudreau, explains, Buena Vida Estates is currently 94% reserved and occupied. We have received such overwhelmingly positive responses to our Continuing Care Retirement Community program that we have quite an extensive waiting list.
Buena Vida Estates attributes our success, positivity, and growth to the long-term employment of our caring staff, the relationships we have with our local community, and of course our residents. From those of us at Buena Vida Estates, we would like to thank you for your continued support, it is because of you that we are able to celebrate our 35th anniversary! For 35 years our team has worked hard to make Buena Vida Estates a success, which is why we are marking the occasion with an evening full of celebration and fun for the Buena Vida team and our residents!  We are looking forward to our Anniversary Celebration this Friday evening, and we are looking forward to another 35 years of success!